Jesica Ester Lantu Raih Best Oral Presentation Award di ICEME 2021 Melalui Paper Berjudul UTAUT 2 Model in Predicting Auditor's Blockchain Technology Adoption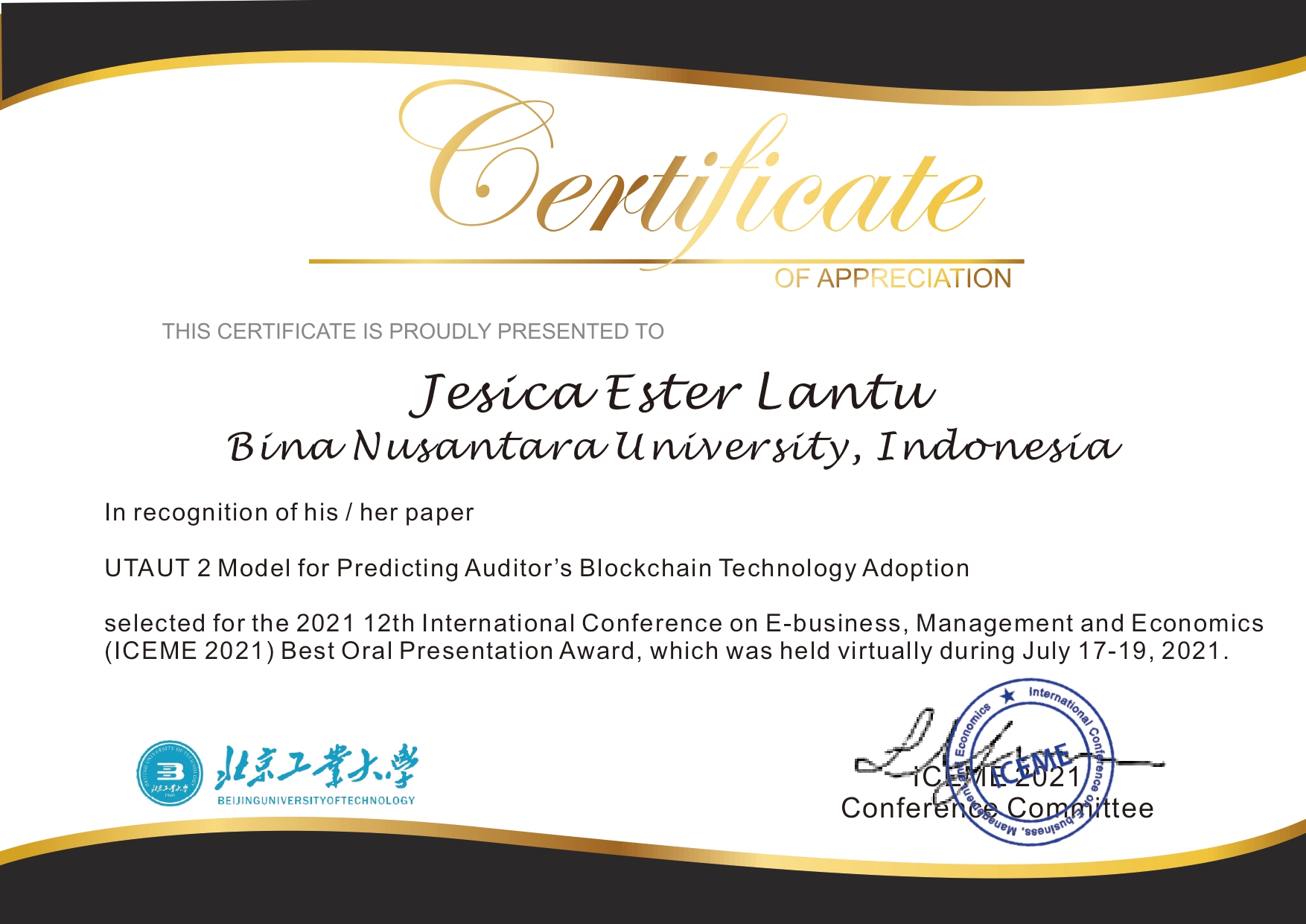 Mahasiswa program studi Akuntansi Universitas Bina Nusantara, Jesica Ester Lantu meraih penghargaan best paper presenter dalam International Conference on E-Business, Management and Economics (ICEME 2021). Conference tersebut diadakan di Beijing, China secara online menggunakan zoom pada tanggal 17-19 Juli 2021.
Paper yang dipresentaskan berjudul UTAUT 2 Model in Predicting Auditor's Blockchain Technology Adoption. Paper tersebut berasal dari skripsinya yang sedang dikerjakan dalam semester tersebut.
Blockchain dikenal sebagai teknologi buku besar terdistribusi yang merupakan sistem di mana catatan transaksi disimpan dalam blok yang dikelola oleh beberapa komputer yang terhubung ke jaringan peer-to-peer yang menggunakan algoritma untuk melakukan verifikasi transaksi (Alao & Gbolagade, 2019). Dengan kata lain, desain blockchain secara inheren tahan terhadap modifikasi data yang telah disimpan di dalam blok dan secara fungsional dianggap cukup efisien, dipercaya untuk diverifikasi, dan memiliki tingkat keamanan yang dapat diandalkan untuk mencatat semua transaksi antara dua pihak. Sehingga ketika auditor melakukan tugasnya untuk memperoleh bukti audit, blockchain dapat digunakan sebagai sumber verifikasi atas transaksi yang dilaporkan dalam laporan keuangan tanpa harus meminta laporan bank kepada klien atau mengirimkan permintaan konfirmasi kepada pihak ketiga (misalnya pemasok). Proses verifikasi otomatis akan mendorong efisiensi biaya yang dikeluarkan dalam lingkungan audit. Blockchain memastikan bahwa data tidak dapat dihapus atau diubah oleh siapa pun, baik oleh perusahaan, pesaing, pihak ketiga, atau pemerintah (Nwachukwu et al., 2020). Oleh karena itu, teknologi blockchain dapat membantu auditor mendeteksi masalah terbesar saat mengaudit adalah penipuan.
Dalam paper tersebut menjelaskan faktor – faktor apa saja yang mempengaruhi keinginan auditor dalam mengadopsi teknologi blockhain. Terdapat tujuh faktor dari teori UTAUT 2 (Kaneberg & Zehra Jönköping, 2016) yang diteliti yaitu: performance expectancy, effort expectancy, social influence, facilitating condition, hedonic motivation, price value dan habit. Dari ketujuh factor tersebut, performance expectancy, effort expectancy, facilitating condition dan habit mempengaruhi keinginan auditor untuk mengadopsi blockchain.
Paper dipresentasikan dengan sangat baik  dan menarik minat banyak audiens. Bertindak sebagai session chair adalah Prof. Patrick Brandtner dari University of Applied Science Upper Austria. Di akhir sesi, Prof  Brandtner memberikan penghargaan best paper presenter kepada Jesica Ester Lantu. Diharapkan dengan adanya prestasi ini mampu meningkatkan animo mahasiswa dalam membuat penelitian yang berkualitas dan mempublikasikan hasil penelitian di conference atau jurnal internasional yang terindex Scopus.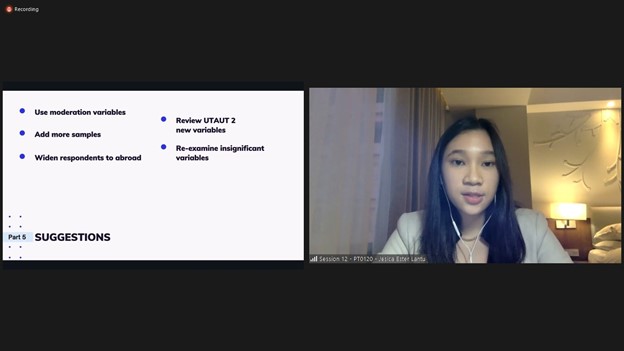 References:
Alao, B., & Gbolagade, O. L. (2019). An Assessment of How Industry 4.0 Technology is Transforming Audit Landscape and Business Models. International Journal of Accounting, Finance, Management Research (IJAAFMR), 3(10), 15–20. https://www.researchgate.net/publication/337021641
Kaneberg, E., & Zehra Jönköping, K. (2016). A Study on Factors Affecting the Behavioral Intention to use Mobile Shopping Fashion Apps in Sweden. http://www.diva-portal.org/smash/get/diva2:933382/FULLTEXT01.pdf
Nwachukwu, C. E., Usman, T. O., Akhor, S. O., & Oladipupo, A. O. (2020). Auditing in the New Age of Industry 4.0. International Journal of Business Strategy and Automation, 2(1), 17–28. https://doi.org/10.4018/ijbsa.20210101.oa2
Image Sources: Google Images