MoU Signing Ceremony & National Webinar – IIA Indonesia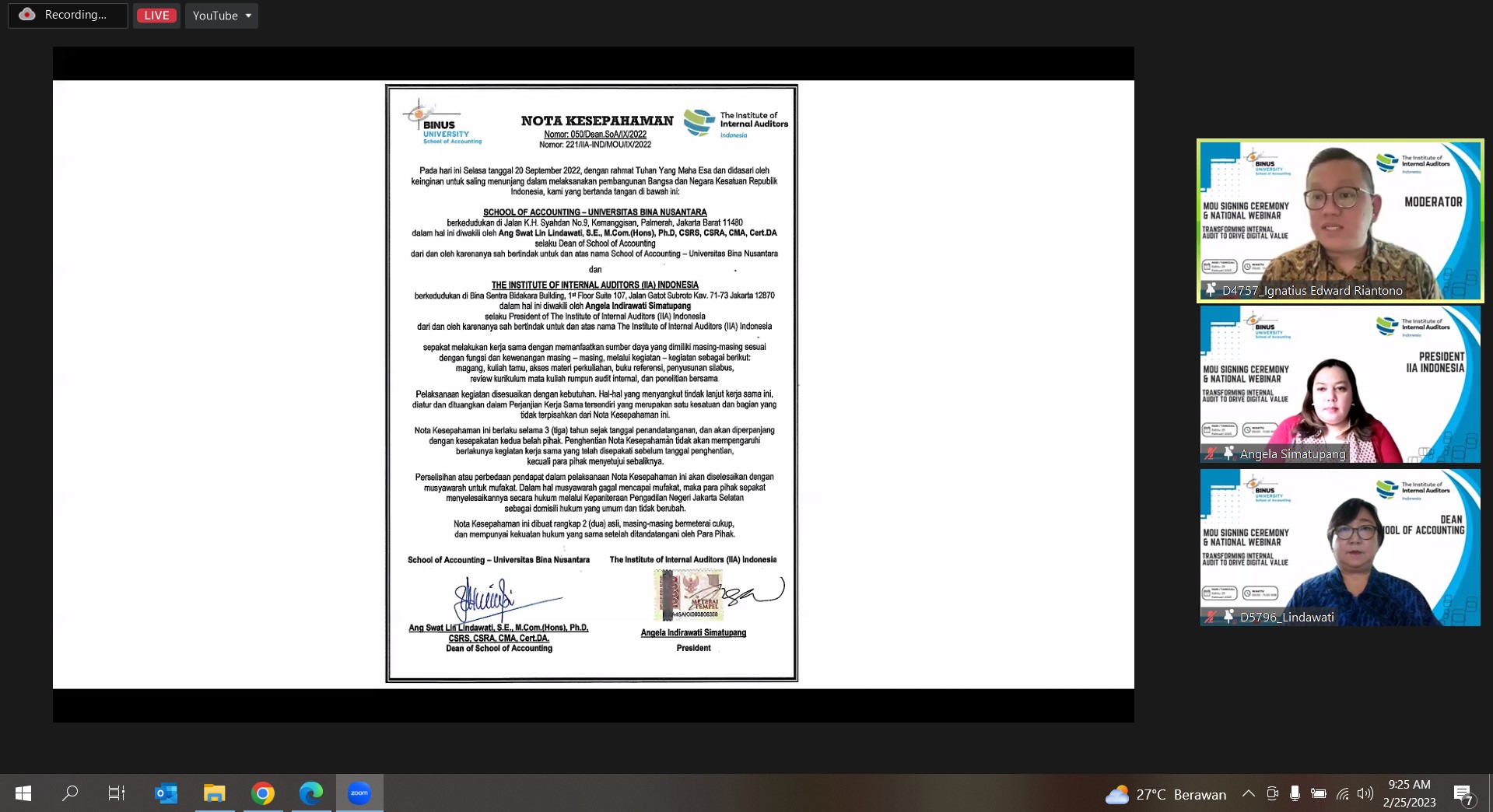 Mengawali 2023, Accounting Program (School of Accounting) BINUS terus mengepakan sayap kerjasamanya. Kali ini, pada 25 Februari 2023, telah dilaksanakan penandatanganan kerjasama antara School of Accounting dengan Institute of Internal Auditors (IIA) – Indonesia. Pada acara ini, dihadiri oleh para pejabat dari kedua sisi, seperti A.S.L. Lindawati, S.E., M.Com. (Hons), Ph.D., CSRS., CSRA., CMA., Cert.DA. (Dean of School of Accounting) dan Angela Indirawati Simatupang, S.E., M.Com., IIAP., CIA., CRMA. (President IIA Indonesia). Acara dipandu dengan meriah oleh Bapak Ignatius Edward Riantono, S.E., M.Ak., Cert.DA. (Lecturer Specialist – Partnership).
Tidak hanya penandatanganan MoU, dalam acara ini juga dilaksanakan Webinar Nasional bertajuk "Transforming Internal Audit to Drive Digital Value" oleh Bapak Rama Kurnia, S.E., M.Ak., IIAP., CIA. selaku Sekretaris IIA Indonesia.
Dengan adanya acara ini, Accounting BINUS terus bergerak maju membuka kerjasama seluas-luasnya yang tentunya akan membawa manfaat kepada para Binusian.