International Webinar – Climate Action & The Accountancy Profession: Building a Sustainable Future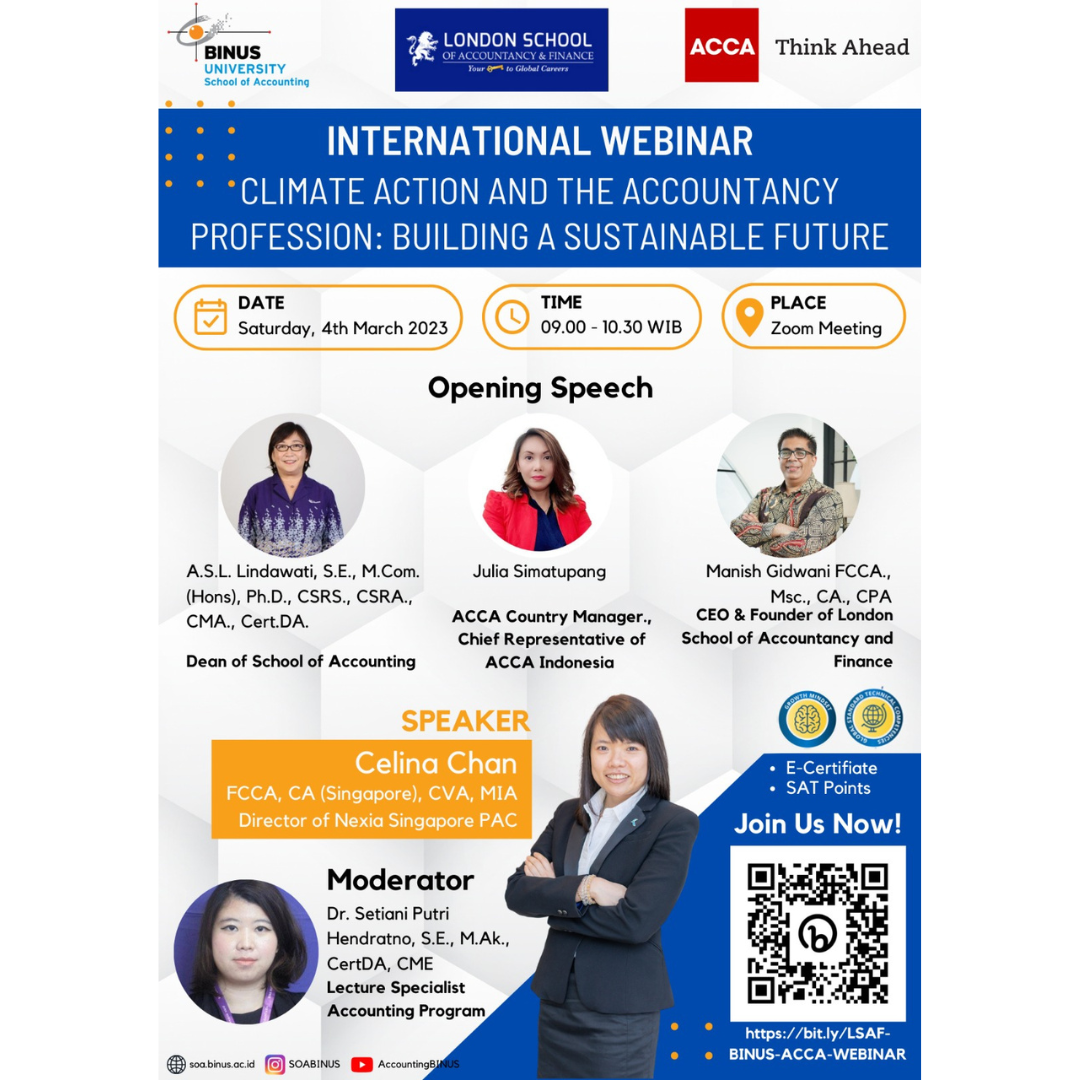 Accounting Program (School of Accounting) telah sukses menyelenggarakan Webinar Internasional pertama di tahun 2023 bersama dengan London School of Accountancy & Finance (LSAF) dan ACCA. Adapun Webinar dilaksanakan pada Sabtu, 4 Maret 2023 secara daring. Pada acara ini, dihadiri oleh beberapa pejabat, antara lain:
A.S.L. Lindawati, S.E., M.Com. (Hons), Ph.D., CSRS., CSRA., CMA., Cert.DA. (Dean of School of Accounting)
Julia Simatupang (ACCA Country Manager – Chief Representative of ACCA Indonesia)
Manish Gidwani, FCCA., M.Sc.,CA., CPA. – CEO & Founder of London School of Accountancy and Finance
Webinar bertajuk "Climate Action and the Accountancy Profession: Building a Sustainable Future" dibawakan oleh Celina Chan, FCCA., CA. (Singapore), CVA., MIA. sebagai Director of Nexia Singapore PAC dan dipandu oleh Dr. Setiani Putri Hendratno, S.E., M.Ak., Cert.DA., CME. sebagai Lecturer Specialist Accounting Program.
Dalam acara ini, para Binusian antusias mendengarkan pemaparan materi yang diberikan untuk menambah pengetahuan mereka,.