National Webinar – The Future Audit Technology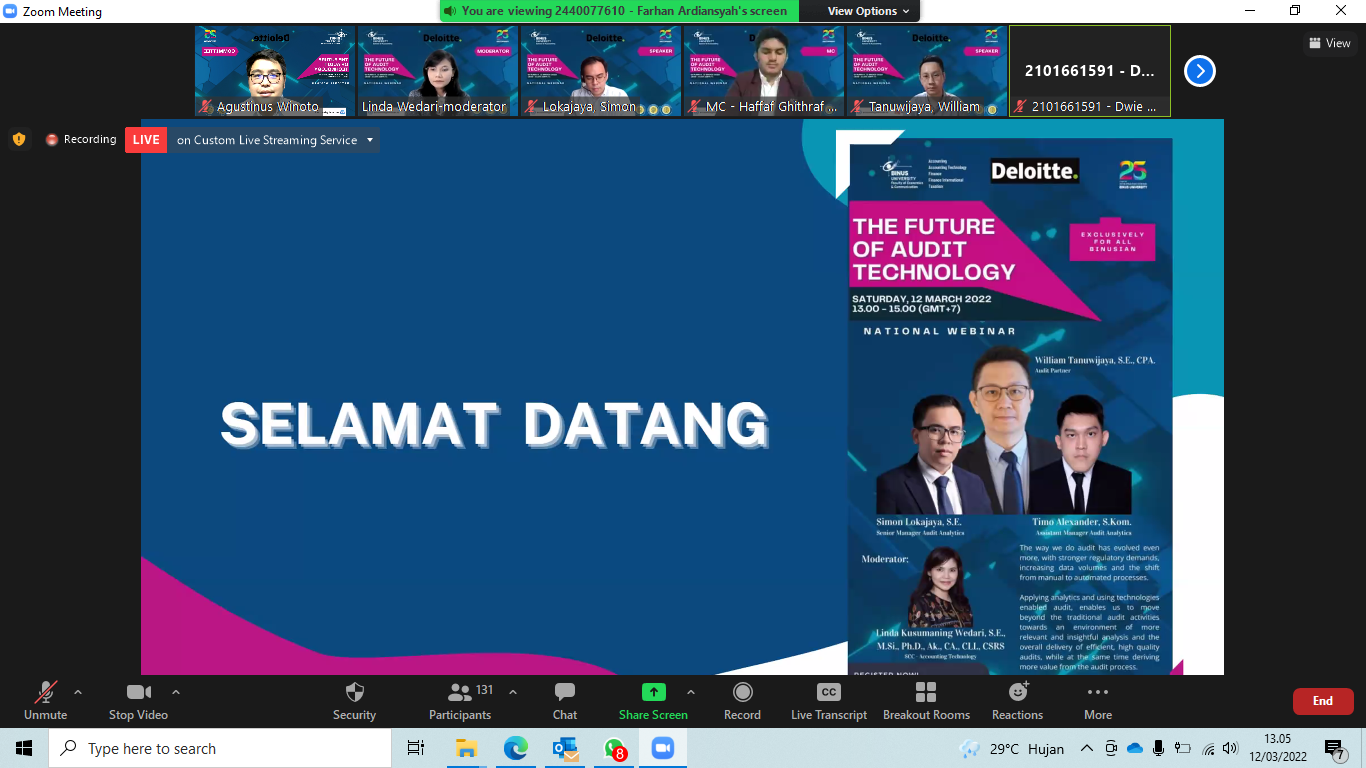 12 Maret 2022 menjadi hari yang membahagiakan bagi Accounting Study Program, dimana Accounting Study Program BINUS University telah sukses bekerjasama dengan Deloitte Indonesia, yang merupakan salah satu BIG 4 (Kantor Akuntan Publik). Kerjasama yang dimaksud adalah terselenggaranya webinar dengan topik yang sangat menarik yaitu "The Future Audit Technology" secara daring. Pembicara yang hadir juga merupakan  pembicara yang spesial, antara lain:
Bapak William Tanuwijaya selaku Audit Partner, Leader for Transformation, Innovation and Analytics in Audit
Bapak Simon Lokajaya, selaku Senior Manager Audit Analytics, Deloitte Indonesia
Bapak Timo Alexander, sebagai Assistant Manager Audit Analytics
Dalam paparannya, Audit memang akan terus berkembang sesuai perkembangan zaman. Dengan adanya kemajuan teknologi yang sedemikian cepat membuat profesi auditor terus diminati banyak orang. Sebagai salah satu BIG 4, Deloitte juga terus membuktikan diri menjadi salah satu KAP yang terus beradaptasi dengan teknologi. Penggunaan Big Data juga sudah mulai dijalankan di KAP ini. Perlahan-lahan, kegiatan audit secara konvensional (mulai dari pemeriksaan kertas bukti dan sebagainya) juga mulai ditinggalkan untuk bergerak ke data yang lebih banyak. Karena itu, penggunaan teknologi tidak dapat dipisahkan dari perusahaan untuk memudahkan kegiatan audit.