Corporate Social Responsibility Theories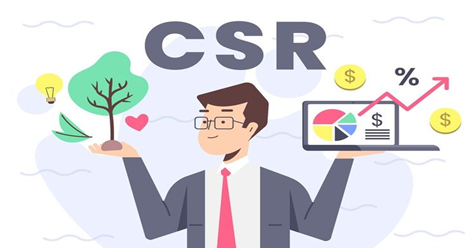 Instrumental Theories
In this group of theories, CSR is seen only as a strategic tool to achieve economic objectives and wealth creation. Representative of this approach is the well-known Friedman view that "the only one responsibility of business towards society is the maximization of profits to the shareholders within the legal framework and the ethical custom of the country. Three main groups of instrumental theories can be identified, depending on the economic objective proposed. In the first group, the objective is the maximization of shareholder value, measured by the share price. Frequently, this leads to a shorter profit orientation. The second group of theories focuses on the strategic goal of achieving competitive advantages, which would produce long-term profits. In both cases, CSR is only a question of enlightened self-interest (Keim, 1978) since CSRs are a mere instrument for profits. The third is related to cause-related marketing and is close to the second. Let us briefly examine the philosophy and some variants of these groups.
Political Theories
A group of CSR theories and approaches focus on interactions and connections between business and society, the power and position of a business, and its inherent responsibility. They include both political considerations and political analysis in the CSR debate. Although there are a variety of approaches, two principal theories can be distinguished: Corporate Constitutionalism and Corporate Citizenship.
Integrative Social Contract Theory
This social contract implies some indirect obligations of business towards society. This approach would overcome some limitations of deontological and teleological theories applied to business. Afterward, Donaldson and Dunfee (1994, 1999) extended this approach. They proposed an "Integrative Social Contract Theory" (ISCT) to take into account the socio-cultural context and integrate empirical and normative aspects of management. Social responsibilities come from consent. These scholars assumed two levels of consent. Firstly a theoretical macrosocial contract appeals to all rational contractors, and secondly, an actual microsocial contract by members of numerous localized communities. According to these authors, this theory offers a process in which the contracts among industries, departments, and economic systems can be legitimate.
Integrative Theories
This group of theories looks at how business integrates social demands, arguing that business depends on society for its existence, continuity, and growth. Social demands generally consider how society interacts with business and gives it legitimacy and prestige. Consequently, corporate management should consider social demands and integrate them so that the business operates by social values.
Normative Stakeholder Theory
Following this theory, a socially responsible firm requires simultaneous attention to the legitimate interests of all appropriate stakeholders. It has to balance such a multiplicity of interests and not only the interests of the firm's stockholders. This theory has been applied to various business fields, including stakeholder management for the business and society relationship.
Sources:
Google Image. (2022).
Donaldson, T., and T.W. Dunfee. (1994). Towards a university conception of business ethics: Integrative social contracts theory. Academy of Management Review. 19: 252–284.
Donaldson, T., and T.W. Dunfee. (1999). Ties that bind: A social contracts approach business ethics. Boston: Harvard Business School Press.
Garriga, E. and Mele, D. (2013). Corporate Social Responsibility Theories: Mapping the Territory. Journal of Business Ethics, Advances in Business Ethics Research.
Keim, G.D. (1978). Corporate social responsibility: An assessment of the enlightened self-interest model. Academy of Management Review. 3(1): 32–40.