Audit Simulation Training – BINUS & ACCA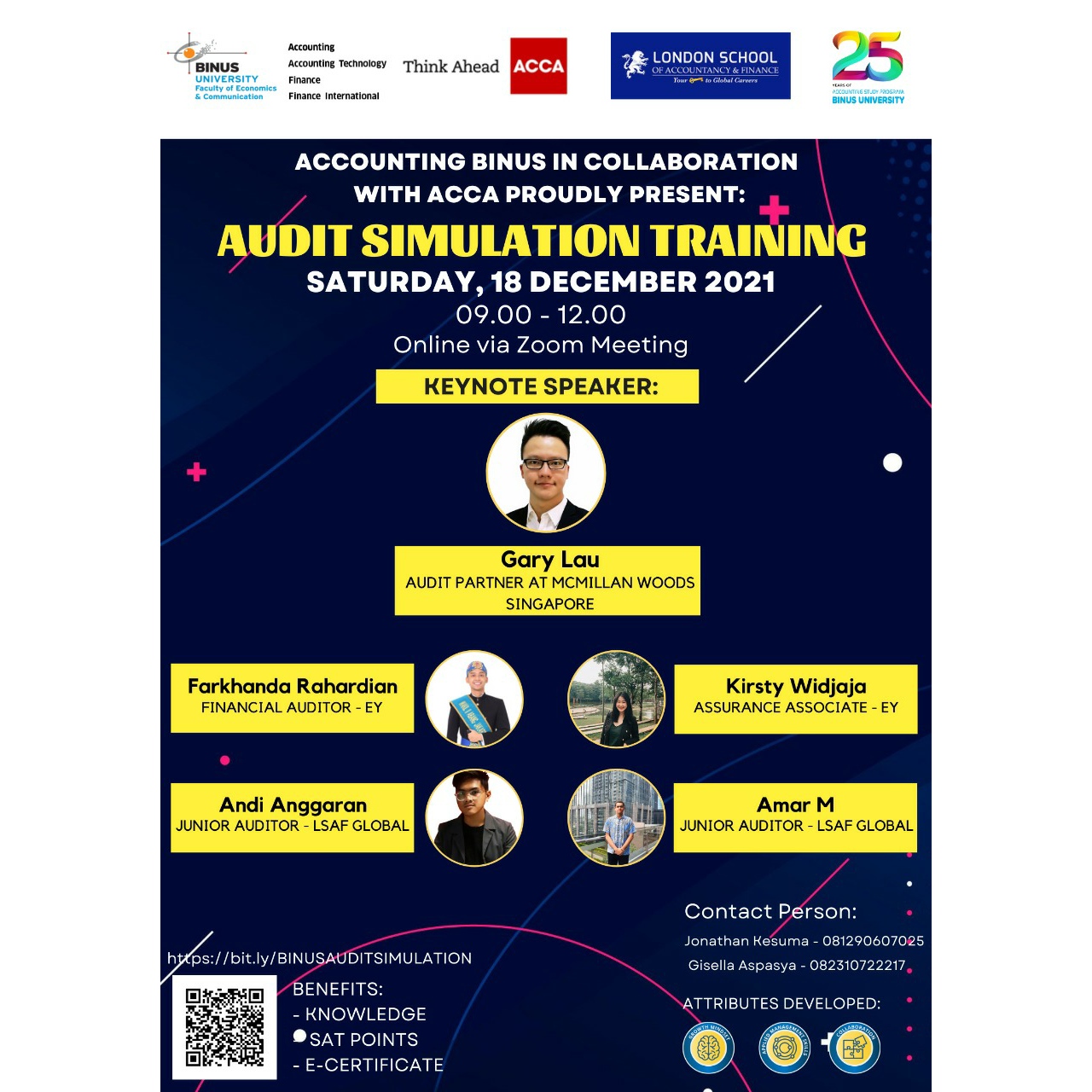 BINUS UNIVERSITY IN COLABORATION WITH ACCA PROUDLY PRESENT!👏
📍 Audit Simulation Training📍
Speakers:
– Gary Lau – Audit partner at McMillan Woods Singapore
– Farkhanda Rahardian – Financial Auditor at EY
– Kirsty Widjaja – Assurance Associate at EY
– Amar M – Junior Auditor at LSAF Global
– Andi Anggaran – Junior Auditor at LSAF Global
Audit can be defined as an examination of the financial report of an organization by someone independent of that organization. Auditing activities is carried out by a professional accountant, called as an auditor. In this event, student will learn from global practitioners how audit process is conducted. The session will also be completed with the ACCA Info Session as an opportunity for Binusian to know ACCA Indonesia closer and explore what are the benefits of being a Binusian. This training is aimed for Binus students that have completed the Financial Audit I and Financial Audit II courses, especially Binusian 2023.
The event will be held on:
📆 : Saturday, 18 December 2021
⏰ : 09.00 – 12.00 WIB (Jakarta time)
📌 : Zoom Meetings
Benefits:
✔️ SAT Points (For Binusian)
✔️ E-Certificate
✔️ Knowledge
Registration Link: http://bit.ly/BINUSAUDITSIMULATION
If you have any inquiry, you can contact Gisella Septi Aspasya at +62 823 1072 2217 or Jonathan Theodore Kesuma at +62 812 9060 7025. See you on the event!