International Seminar – Latest Development on Fraud Theory: The Fraud Hexagon and Its Application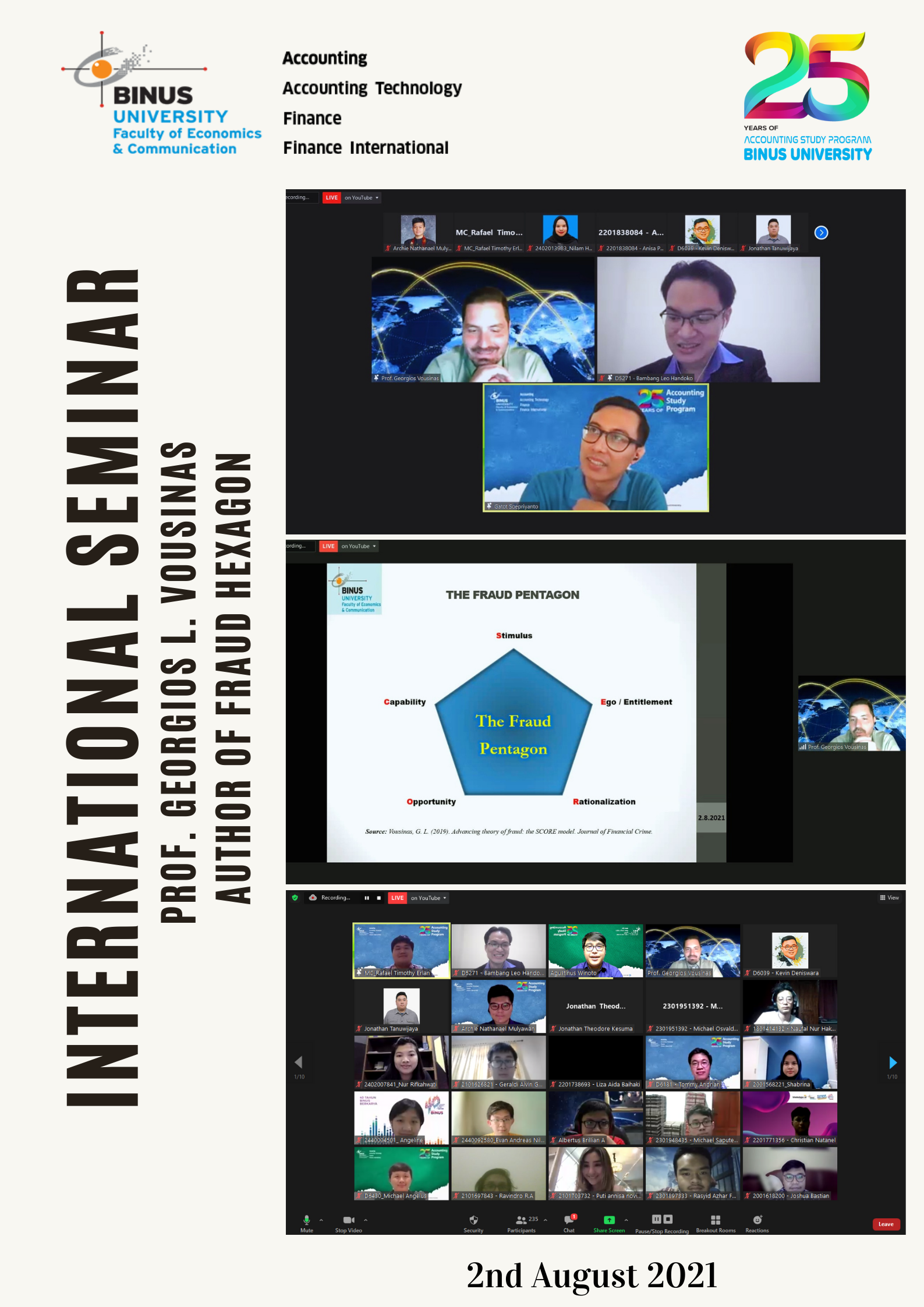 Accounting BINUS kembali mengadakan seminar internasionalnya secara daring kepada seluruh BINUSIAN. Kali ini pada 2 Agustus 2021, Accounting BINUS mengundang Prof. Georgious L. Vousinas selaku senior researcher di National Technical University of Athens (Yunani). Bagi sebagian Binusian, khususnya yang mengambil peminatan di bidang auditing, tentunya akan mengenal beliau dari buku-buku audit. Ya, beliau adalah pencetus mengenai Fraud Hexagon Theory.
Dalam acara webinar internasional ini, juga dipandu oleh Bapak Bambang Leo Handoko, M.M., M.Si. selaku SCC-Auditing. Dalam paparannya, Prof. Vousinas banyak berbagi mengenai latar belakang dan asal muasal bagaimana tercetusnya ide mengenai Fraud Hexagon Theory. Selain itu, beliau juga menjelaskan ke depan bagaimana perkembangan dari teori ini. Tidak hanya itu, Prof Vousinas juga bersedia berbagi ilmu mengenai penerapan nya secara nyata di Indonesia.
Acara ini juga dihadiri oleh Bapak Gatot Soepriyanto, Ph.D. selaku Dean of Faculty of Economics & Communications BINUS University. Beliau berkenan memberikan sambutan, dimana dalam sambutannya beliau sangat senang bahwa Accounting BINUS dapat mengundang pembicara kelas dunia untuk membagikan ilmunya kepada para BINUSIAN. Apresiasi juga diberikan kepada Prof. Vousinas yang berkenan memberikan pengetahuannya secara langsung.
Sampai berjumpa di acara webinar internasional berikutnya!