Lavie Audy Presentasi Analysis of Factors Affecting Investor Intention to Use Mobile Online Mutual Fund Application di ICEBA 2021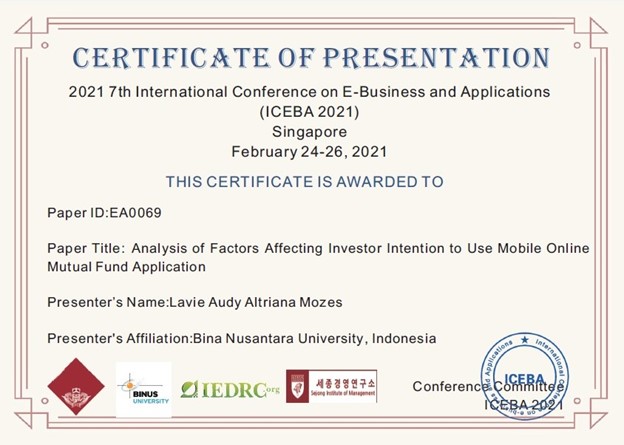 Lavie Audy Altriana Mozes mahasiswa program studi Akuntansi Universitas Bina Nusantara Binusian 2021 sebelumnya mengambil track internship pada semester 7, kemudian pada semester 8 ketika menyusun skripsi, terbukti kehalian yang diperoleh ketika mengambil track internship sangat membantu dalam penyusunan skripsi. Skripsi tidak hanya selesai tepat waktu, tetapi juga dipublikasikan secara internasional di 7th International Conference on E-Business and Applications-ICEBA 2021. Conference tersebut diselenggarakan secara online, virtual conference dari Singapore, pada tanggal 24-26 Februari 2021. Pada conference tersebut, Lavie mempresentasikan paper hasil penelitian berjudul Analysis of Factors Affecting Investor Intention to Use Mobile Online Mutual Fund Application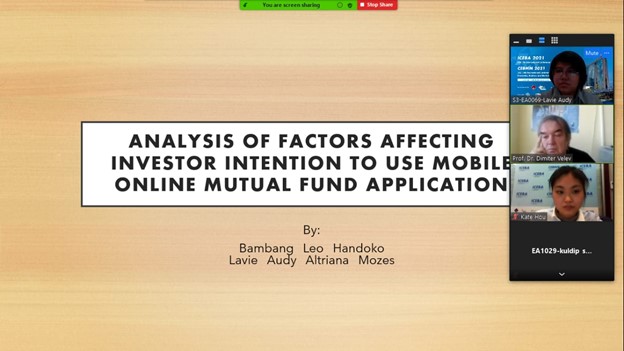 Gambar 1 Foto Presentasi Lavie Audy
Penelitian ini mengulas tentang fenomena banyaknya aplikasi reksa dana online. Masyarakat investor sangat mudah ketika ingin membeli dan berinvestasi di reksa dana. Calon investor tidak perlu lagi pergi ke bank secara fisik, melainkan hanya cukup secara online menggunakan ponsel cerdas mereka. Transaksi bisa dilakukan dengan cepat, baik penempatan maupun penarikan investasi dilakukan secara online. Dengan adanya aplikasi ini, mampu mengakomodir investor yang mau membeli dalam jumlah kecil, baru belajar investasi reksa dana (Rahmawati et al., 2020). Faktor – faktor apa sajakah yang mempengaruhi animo atau keinginan masyarakat investasi dalam menggunakan mobile online mutual fund? Penelitian ini menggunakan pendekatan kuantitatif, yaitu menguji hipotesis, apakah faktor – faktor berikut berpengaruh atau tidak terhadap minat menggunakan mobile online mutual fund. Faktor yang menjadi variable bebas dalam penelitian ini adalah Perceived Ease of Use, Perceived Usefulness, Financial Technology Knowledge, Trust dan Perceived Security. Beberapa factor mengacu pada grand theory technology acceptance model yang diperkenalkan oleh (Davis, 1989).
Pengumpulan data menggunakan kuesioner kepada responden, aplikasi yang ditanyakan kepada responden antara lain: Bibit, Tanamduit, Bareksa, Ajaib, Ipot Go, XDana, Invisee. Hal ini mengacu kepada penelitian pendahuluan (Shrestha & Shrestha, 2020). Pengujian yang dilakukan dalam penelitian ini adalah uji validitas, uji reliabilitas, uji asumsi klasik sebagai uji prasyarat dan uji ordinary least square untuk menjawab hipotesis. Hasil pengujian membuktikan bahwa Perceived Ease of Use dan Trust berpengaruh signifikan terhadap minat penggunaan mobile online mutual fund. Implikasi dari penelitian ini mengatakan bahwa mutual fund provide haruslah membuat aplikasi yang mudah digunakan, tidak perlu lama beradaptasi dan dapat dipercaya, aman digunakan terhidar dari resiko pencurian data.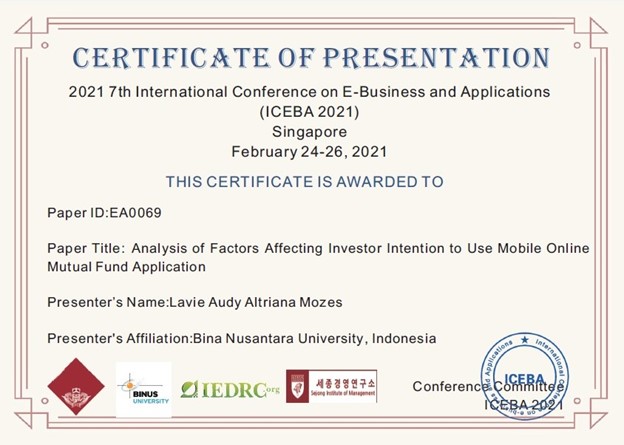 Gambar 2. Sertifkat Lavie
Paper ini telah dipresentasikan dan publish di ACM Digital Library yang terindex Scopus. Lavie bahkan mencetak prestasi, yaitu paper penelitiannya sudah terindex Scopus sebelum sidang skripsi. Semoga dengan adanya publikasi Lavie ini membuka mata mahasiswa bahwa publikasi terindex Scopus bahkan sebelum sidang skripsi itu sangat mungkin, dengan demikian mahasiswa lain dan adik-adik kelasnya dapat termotivasi untuk juga mempublikasi penelitian skripsinya.
Referensi:
Davis, F. D. (1989). Perceived Usefulness , Perceived Ease Of Use , And User Acceptance. MIS Quarterly, 13(3), 319–339. https://doi.org/10.2307/249008
Rahmawati, D., Ekuitas, S., Rahadi, R. A., & Damayanti, S. M. (2020). ADOPTION ANALYSIS OF ONLINE MUTUAL FUND INVESTMENT PLATFORM ADOPTION ANALYSIS OF ONLINE MUTUAL FUND. October.
Shrestha, D. P., & Shrestha, Y. M. (2020). Factors Influencing Investment in Mutual Fund Schemes of Nepal. 15–34.