Dessy Tandean Presentasi Penelitian Berjudul Fraud Hexagon in Detecting Financial Statement Fraud di ICEBA 2021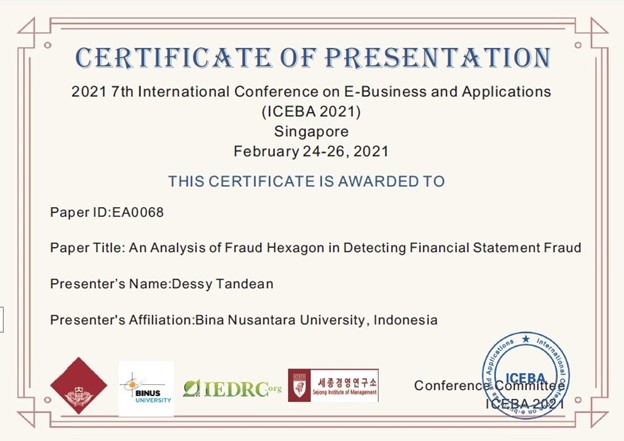 Dessy Tandean mahasiswa program studi Akuntansi Universitas Bina Nusantara Binusian 2021 mempresentasikan publikasi penelitian skripsinya pada publikasi internasional di 7th International Conference on E-Business and Applications-ICEBA 2021. Conference tersebut diselenggarakan secara online, virtual conference dari Singapore, pada tanggal 24-26 Februari 2021. Pada conference tersebut, Dessy Tandean mempresentasikan paper hasil penelitian berjudul An Analysis of Fraud Hexagon in Detecting Financial Statement Fraud (Empirical Study of Listed Banking Companies on Indonesia Stock Exchange for Period 2017 – 2019).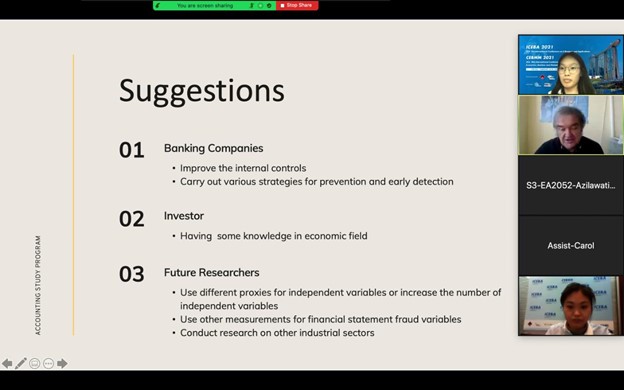 Gambar 1 Foto Presentasi Dessy Tandean
Paper tersebut membahas tentang evolusi theory fraud, mulai dari fraud triangle (Cressey, 1953) yang terdiri dari pressure, opportunity dan rasionalisasi, kemudian berevolusi menjadi fraud diamond dengan adanya tambahan factor yang keempat yaitu capabilities (Wolfe & Hermanson, 2004). Dalam perkembangannya fraud diamond kembali berevolusi menjadi fraud pentagon dengan menambahkan factor arrogance atau kesombongan (Horwath, 2011). Kesombongan menjadi factor yang meningkatkan keberanian seseorang untuk melakukan fraud. Kemudian kembali adanya penambahan satu factor lagi yaitu kolusi dalam fraud hexagon yang dikemukakan oleh (Vousinas, 2019)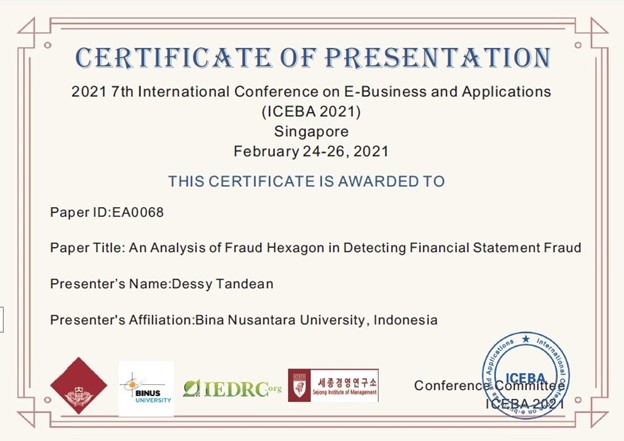 Gambar 2. Sertifikat Presentasi Paper Dessy Tandean
Pada penelitian ini menggunakan tujuh variable independen yang mewakili keenam elemen dalam Fraud Hexagon, yaitu: Pressure, Opportunity, Rationalization, Capability, Arrogance, Collusion. Dimana Pressure diwakili dua variable: financial target dan external pressure. Paper penelitian ini dipublikasikan di ACM Digital Library yang terindex Scopus. Paper ini menuai banyak antusiasme dari para peneliti, tidak kurang dari pencetus Teori Fraud Hexagonnya sendiri yaitu Professor Georgios Vousinas dari National Technical University of Athens yang secara personal mengutarakan ketertarikannya pada artikel yang mensitasi grand theorynya. Semoga dengan adanya publikasi hasil penelitian dari skripsi Dessy Tandean ini dapat menjadi contoh bagi mahasiswa lainnya untuk meningkatkan animo di bidang penelitian, dan penelitian tidak hanay disimpan di repository tetapi dipublikasi secara internasional.
Referensi:
Cressey, D. R. (1953). Other People's Money: A Study in the Social Psychology of Embezzlement. Glencoe.
Handoko, B. L., Marpaung, A. T., & Ayuanda, N. (2021). Development of Cryptocurrency in the Indonesian Economy. ACM International Conference Proceeding Series, 54–59. https://doi.org/10.1145/3457640.3457648
Horwath, C. (2011). Why the Fraud Triangle is No Longer Enough. Www.Crowe.Com.
Vousinas, G. L. (2019). Advancing theory of fraud: the S.C.O.R.E. model. Journal of Financial Crime, 26(1), 372–381. https://doi.org/10.1108/JFC-12-2017-0128
Wolfe, D. T., & Hermanson, D. R. (2004). The Fraud Diamond : Considering the Four Elements of Fraud. CPA Journal, 74(12), 38–42.
Image Sources: Dokumentasi Pribadi