William Suryadharma Presentasi Penelitian Enrichment Track Research di EBEE 2020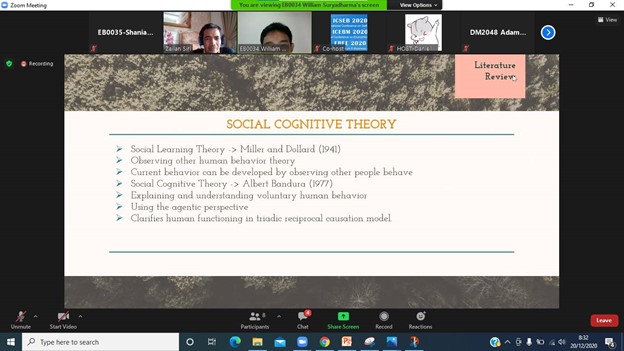 Salah satu program enrichment yang ditawarkan kepada mahasiswa di Universitas Bina Nusantara adalah enrichment track research. William Suryadharma salah satu mahasiswa Binusian 2021 program studi Akuntansi Bina Nusantara yang mengambil track research menorehkan prestasi yang mengharumkan nama Universitas Bina Nusantara dengan mempresentasikan hasil penelitiannya selama mengambil track research dalam International Conference on E-Business and E-Commerce Engineering (EBEE 2020). EBEE tersebut diselenggarakan secara online dari Bangkok Thailand pada tanggal 18 – 20 Desember 2020.
Pada international conference tersebut,William Suryadharma yang merupakan bimbingan track research  Bapak Bambang Leo Handoko membawakan paper penelitian kuantitatif mengenai bagaimana grand theory perilaku diaplikasikan pada keinginan auditor dalam mengadopsi teknlogi informasi. Dalam paper tersebut, William menggabungkan dua grand theory dalam sebuah model penelitian berbasis Structural Equation Modelling (SEM) path analysis. Pada saat presentasi, William tergabung satu pool dengan peneliti kelas international seperti Dr. Ahmad Eltweri dari Liverpool John Moores University, UK. Adapun bertindak sebagai session chair adalah Assoc Prof Zailan Siri dari Universiti of Malaya, Malaysia.
International Conference tersebut dihadiri para pemakalah dari berbagai belahan dunia, seperti dari Amerika Serikat, Inggris, Belanda, China, Australia, Jepang, Thailand, Israel, Scotland, dan juga negara – negara lainnya. Bertindak sebagai keynote speech dalam international conference tersebut adalah Prof Shuanghua Yang dari Southern University of Science and Technology China, Prof Lili yang dari Loughborough University, Uk, kemudian Assoc Prof George Shan dari The University of Western Australia, selain itu juga dua orang invited speaker yaitu: Assoc Prof Koen Smit dari HU University of Applied Science, Belanda dan juga Bapak Bambang Leo Handoko dari Bina Nusantara University, Indonesia.
Publikasi penelitian William Suryadharma di international conference ini diharapkan dapat memotivasi rekan – rekan sesama mahasiswa untuk dapat meningkatkan kualitas penelitian untuk publikasi di taraf international dan terindex Scopus.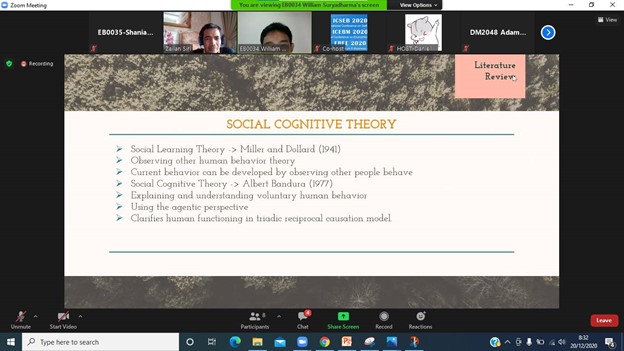 BLH