Bapak Bambang Leo Handoko Memberikan Pelatihan Method and Practice of Auditing Kepada Lab Assistant Akuntansi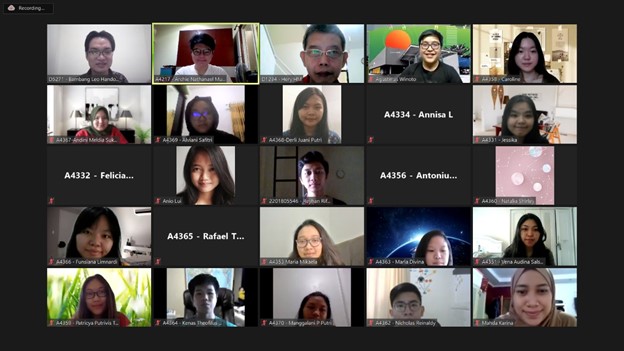 Untuk persiapan semester genap 2020 – 2021 dimana akan berjalan mata kuliah ACCT6077 Method and Practice of Auditing, Bapak Bambang Leo Handoko selaku subject content coordinator rumpun keilmuan Auditing memberikan persiapan kepada para asisten lab Program Studi Akuntansi. Persiapan tersebut berupa pelatihan/training kepada para aslab.
Pelatihan aslab untuk persiapan asistensi mata kuliah ACCT6077 Method and Practice of Auditing tersebut diselenggarakan pada Hari Rabu tanggal 13 Januari 2021 pukul 09.00 – 12.00 online menggunakan Zoom. Acara tersebut dibuka oleh kata sambutan dari Bpk Hery Harjono Muljo selaku kepala Laboraturium Akuntansi Binus, kemudian dipandu oleh Kak Agustinus Winoto selaku research, training & development coordinator. Bapak Bambang membawakan materi seputar apa saja yang harus dipersiapkan assistant lab dalam asistensi mata kuliah tersebut. Antara lain harus mempersiapkan diri, memahami mata kuliah Financial Audit, dikarenakan mata kuliah Method and Practice of Auditing merupakan mata kuliah suplemen atau pendukung dari Financial Audit. Bapak Bambang membawakan materi dan juga contoh soal, pada materi yang dibawakan antara lain seperti pembuatan draft surat perikatan audit, program kerja audit, menyusun kertas kerja audit, prosedur audit seperti: vouching, footing, dan juga draft laporan auditor independen. Bpk Bambang juga mengingatkan apra asisten bahwa ketika melakukan recalculation, tentu kecepatan masing-masing mahasiswa akan berbeda, ada yang cepat selesai dan ada yang tertinggal, disinilah para asisten akan berperan penting untuk membantu para mahasiswa yang mengikuti kelas tersebut.
Para peserta asistan lab terlihat sangat antusias, terlihat dari banyaknya pertanyaan dari asisten lab kepada Bpk Bambang selaku pembicara. Acara ditutup dengan foto bersama Bpk Bambang, Bpk Hery, Sdr. Agustinus dan para asisten lab. Dengan adanya pelatihan asisten lab ini diharapkan dapat meningkatkan pemahaman dan persiapan para asisten dalam menghadapi semester genap 2020-2021.
BLH