IMPACT AND STRATEGIES IN TECHNOLOGICAL DEVELOPMENT FOR ACCOUNTANTS TO FACE DIGITAL TRANSFORMATION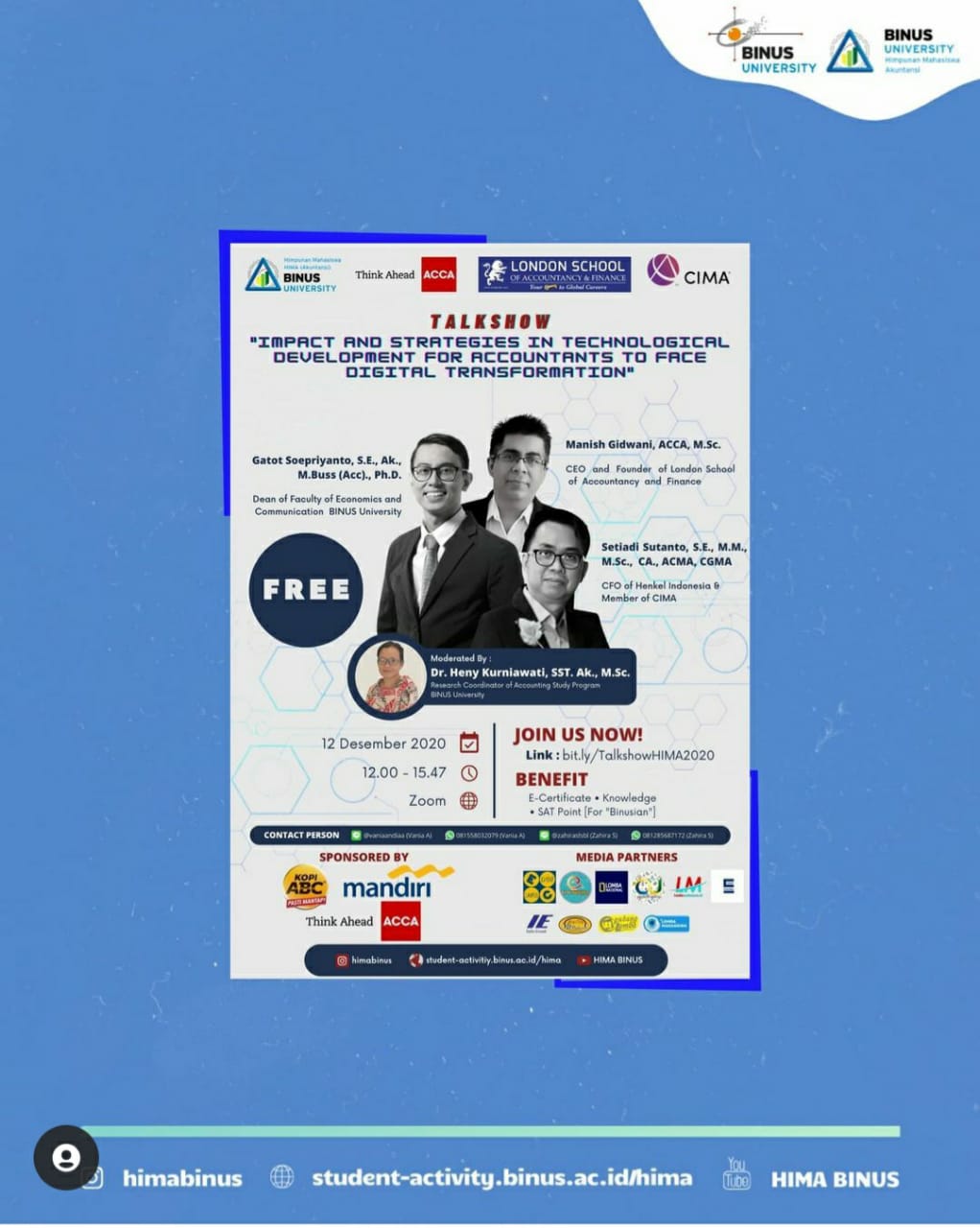 Pada Hari Sabtu 12 Desember 2020 yang dimulai pada pukul 12:00 hingga 15:47, Himpunan Mahasiswa Akuntansi (HIMA) mengadakan sesi talkshow yang dilakukan secara online dengan menggunakan platform zoom dimana acara tersebut terbuka untuk semua kalangan baik yang internal ataupun eksternal Binus University. Acara yang menghadirkan tiga pembicara hebat, yaitu Pak Gatot Soepriyanto, Ph.D. selaku Dean of Faculty of Economics and Communication, Bapak Setiadi Sutanto, ACMA., CGMA. Selaku CFO Henkel Indonesia, dan Bapak Manish Gidwani, ACCA. Selaku CEO of London School of Accountancy and Finance. Ketiga pembicara tersebut menyampaikan materi yang menarik dengan dibantu oleh moderator yang berpengalaman untuk memoderatori selama keberlangsungan acara, yaitu Ibu Dr. Heny Kurniawati.
Topik pada acara ini membahas dampak dan peran dari kemunculan teknologi modern yang mempengaruhi seluruh aspek profesi akuntand di era revolusi industri 4.0, sehingga menuntut pembaruan strategi agar dapat berkolaborasi dengan teknologi yang mendorong transformasi profesi akuntan untuk dapat berkembang menjadi lebih baik. Pembaruan ini memberikan jalan keluar bagi para akuntan di masa depan untuk dapat menyiapkan dan beradaptasi sejak dini terhadap perubahan berbasis teknologi agar tidak mengalami disrupsi berkelanjutan. Para akuntan mendapatkan pengetahuan dan wawasan yang lebih luas terkait dengan penguasaan teknologi yang merajalela dan berpengaruh secara signifikan dalam pasar perekonomian.
ANM