GLOBAL LEARNING SYSTEM: MANAGERIAL ACCOUNTING WITH MR. ILAUDDIN SOPIAN, FCMA., CGMA. AS CFO OF PARAGON TECHNOLOGY AND INNOVATION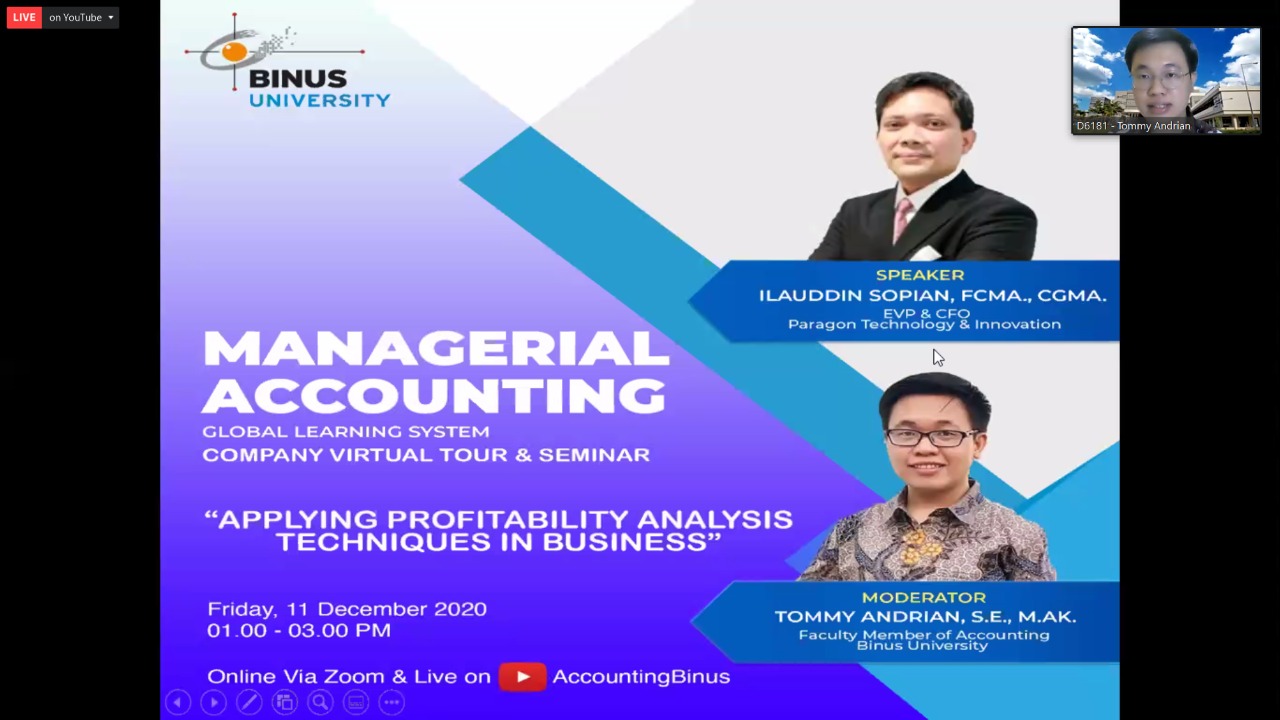 Pada Hari Jumat 11 Desember 2020, Pak Tommy Andrian, S.E., M.Ak. selaku dosen dari faculty member in FEC mengadakan kelas tambahan yang bertujuan untuk meningkatkan ilmu pengetahuan serta wawasan terhadap mahasiswa akuntansi Binusian 2023 terkait dengan aktivitas produksi yang dilakukan oleh Paragon Technology and Innovation. Tidak kalah menarik, dalam GLS ini mahasiswa diajak untuk melakukan virtual company tour untuk dapat melihat lebih jauh aktivitas yang berjalan di Paragon beserta dengan produk-produk yang dibuat untuk dijual kepada masyarakat. Pertama dibawakan oleh Pak Iqbal Mutaqin selaku perwakilan dari Paragon untuk menjelaskan kegiatan dan produktivitas yang berjalan di Paragon serta untuk menambah keseruan dalam virtual company tour ini, Pak Iqbal telah menyiapkan video untuk menggugah semangat mahasiswa dalam menonton GLS tersebut.
Kemudian Pak Ilauddin Sopian selaku CFO Paragon Technology and Innovation menjelaskan lebih jauh proses-proses yang berjalan beserta perhitungannya untuk dapat menentukan Langkah performa perusahaan kedepan. Dengan tampilan yang menarik, mendorong mahasiswa untuk lebih fokus memahami dan mengerti proses perhitungan sesuai dengan yang diajarkan di perkuliahan mengenai akuntansi manajerial. Di akhir sesi yang dimoderatori oleh Pak Tommy Andrian, S.E., M.Ak. banyak mahasiswa yang bersemangat untuk bertanya agar dapat berdiskusi langsung dengan Pak Ilauddin.
ANM