Bapak Bambang Leo Handoko Presentasi Hasil Penelitian di ICIMTECH 2020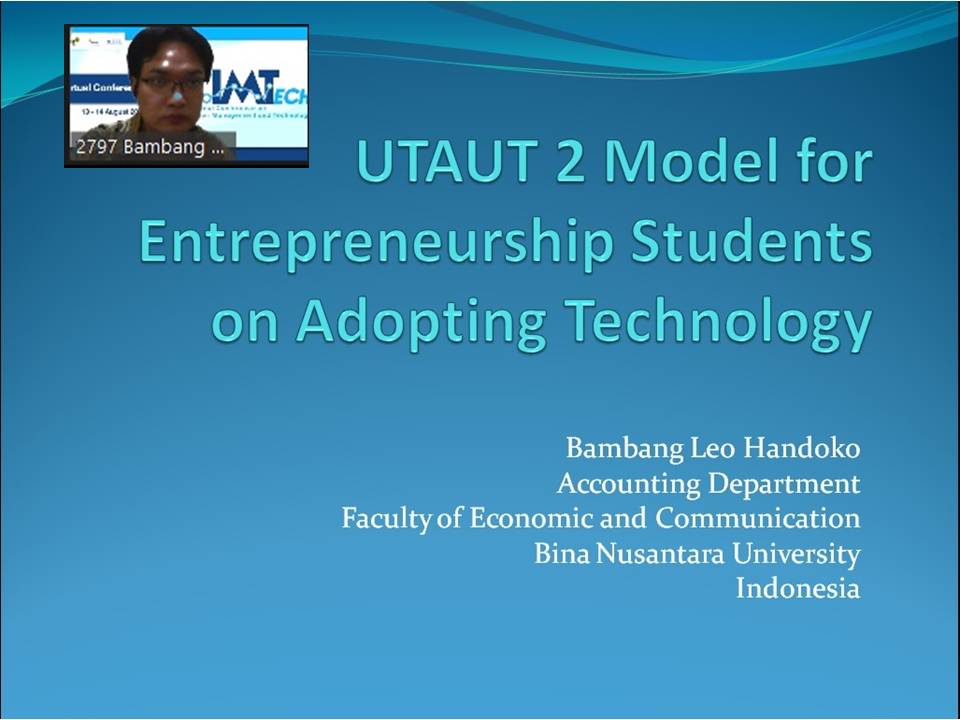 Salah satu dari catur darma perguruan tinggi adalah penelitian. Dalam hal ini civitas akademik melakukan penelitian yang berhubungan dengan bidang keilmuan untuk perkembangan dunia ilmu pengetahuan. Agar penelitian tersebut dapat member dapmpak bagi perkembangan ilmu penegtahuan dan bermanfaat bagi dunai akademik maupun industry, maka penelitian tersebut haruslah dipublikasikan. Salah satu dosen di Program Studi Akuntansi Universitas Bina Nusantara, Bapak Bambang Leo Handoko mempresentasikan hasil penelitian di International Conference on Information Management and Technology (ICIMTECH) 2020.
ICIMTECH 2020 diadakan secara online, dikarenakan pandemic Covid 19, international conference yang rencana awalnya diselenggarakan di Bandung ini, diganti menjadi online conference. Conference tersebut diselenggarakan pada tanggal 13 Agustus 2020.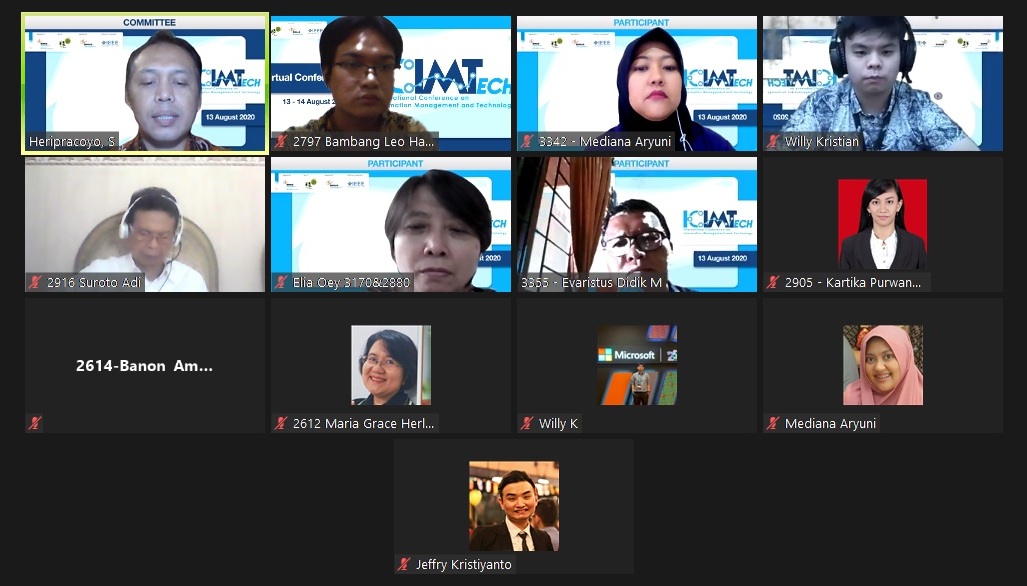 Penelitian yang dipublikasikan Bapak Bambang berjudul UTAUT 2 Model for Entrepreneurship Students on Adopting Technology. Paper tersebut merupakan penelitian mengenai bagaimana mahasiswa yang belajar entrepreneurship mau mengadopsi teknologi, dikarenakan di era revolusi industry 4.0, segala sesuatunya dijalankan secara online dan mau tidak mau seluruh bidang harus mengikuti perkembangan teknologi tanpa terkecuali entrepreneur. Keinginan mahasiswa entrepreneur untuk mengadopsi teknologi dipengaruhi faktor – fakto yang berasal dari grand theory: Unified Theory of Acceptance and Use of Technology  (UTAUT) 2, yaitu: performance expectancy, effort expectancy, social influence, facilitating condition, hedonic motivation, price value, and habit. Presentasi paper tersebut menuai banyak antusiasme dari para audience, banyaknya pertanyaan dan tanggapan dari para audience yang merupakan pemakalah, peserta dan moderator. Conference tersebut dipublikasikan pada proceeding ICIMTECH 2020 yang mana merupakan Proceeding Series of IEEE yang terindex Scopus.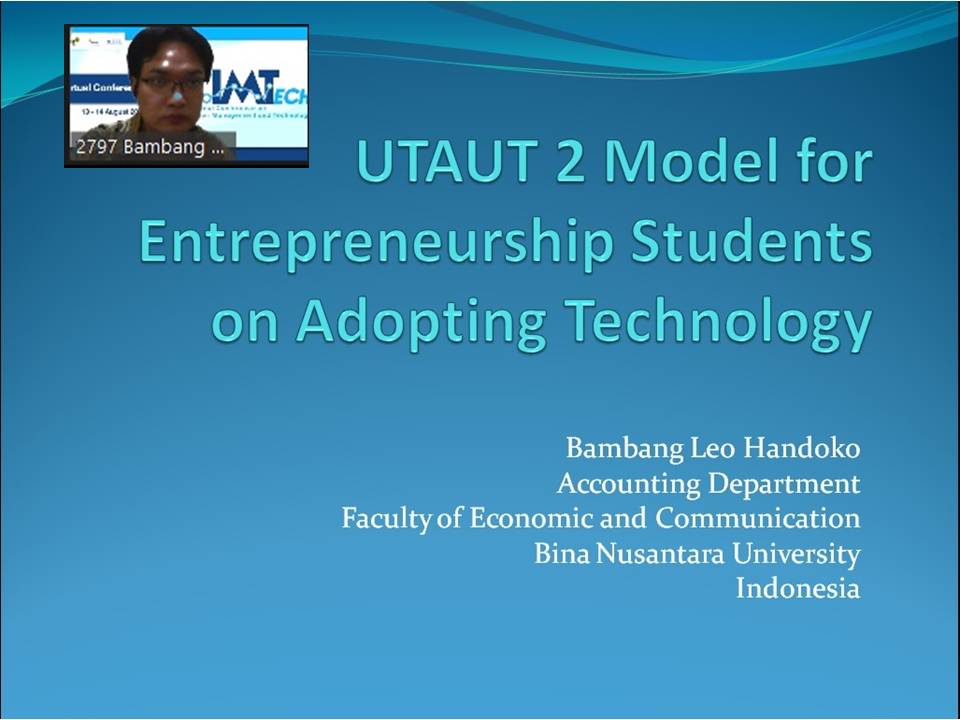 Semoga dengan adanya presentasi hasil penelitian di international conference seperti ini, semakin meningkatkan animo civitas akademik di Program Studi Akuntansi Binus, untuk makin meningkatkan minat di bidang penelitian dan publikasi penelitian di prosiding atau jurnal internasional terindeks Scopus.
BLH