Perayaan 17 Agustus 2020 bersama Accounting Laboratory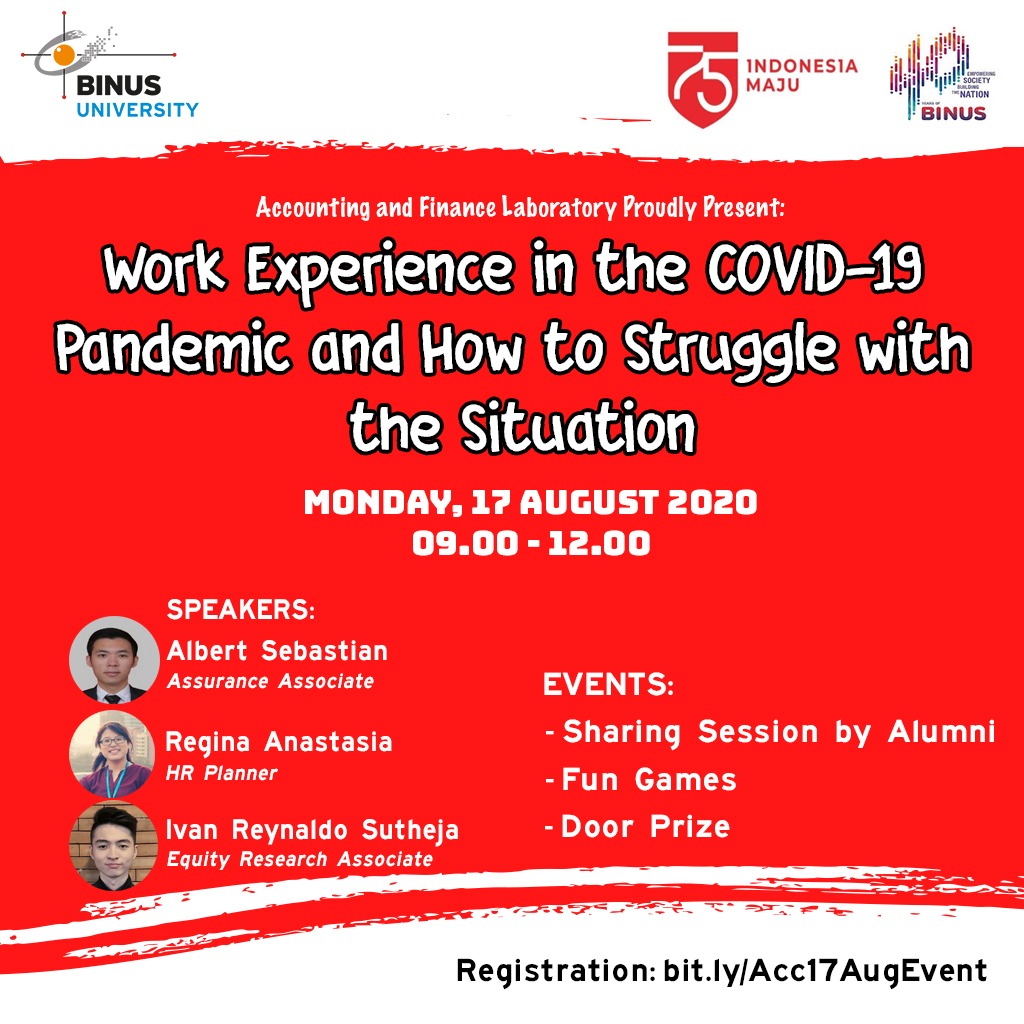 ? Perayaan 17 Agustus 2020 bersama Accounting Laboratory dengan tema "Work Experience in the COVID-19 Pandemic and How to Struggle with the Situation"?
Dear all,
MERDEKA!! Merupakan 1 kata yang mewakili perasaan seluruh masyarakat Indonesia yang menandakan bahwa kita telah bebas dari masa penjajahan. Senang, bahagia, dan kepuasan merupakan unsur kebanggaan kita sebagai warga Indonesia terhadap negara yang telah merdeka dimana saat ini telah berjalan selama 75 tahun.
Untuk merayakan hari yang bahagia tersebut, Accounting Laboratory dengan bangga mempersembahkan 2 acara menarik untuk rekan-rekan asisten dan teman-teman semua yang terdiri dari:
1. Perayaan 17-an (Lomba dan Hadiah Menarik)
2. Sharing Session by Alumni
Tentunya pada sharing session akan dibawakan oleh senior-senior asisten seru yang kini telah bekerja di dunia professional dimana akan dibawakan oleh:
1. Albert Sebastian (Assurance Associate)
2. Regina Anastasia (HR Planner)
3. Ivan Reynaldo (Equity Research Associate)
Acara ini akan dilaksanakan pada:
? Senin, 17 Agustus 2020
⏰ 09.00 – 12.00 WIB
Zoom (TBA)
Link registrasi: https://bit.ly/Acc17AugEvent
Tunggu apalagi? Ayo, mari kita meriahkan acara ini bersama-sama sebagai bentuk rasa kebanggaan kita terhadap kemerdekaan HUT-RI ke 75 Tahun dan dapatkan hadiah menarik.
Best Regards,
Accounting Laboratory Binus University