Dr. Meiryani Narasumber dalam Webinar Strategi Publikasi Jurnal Internasional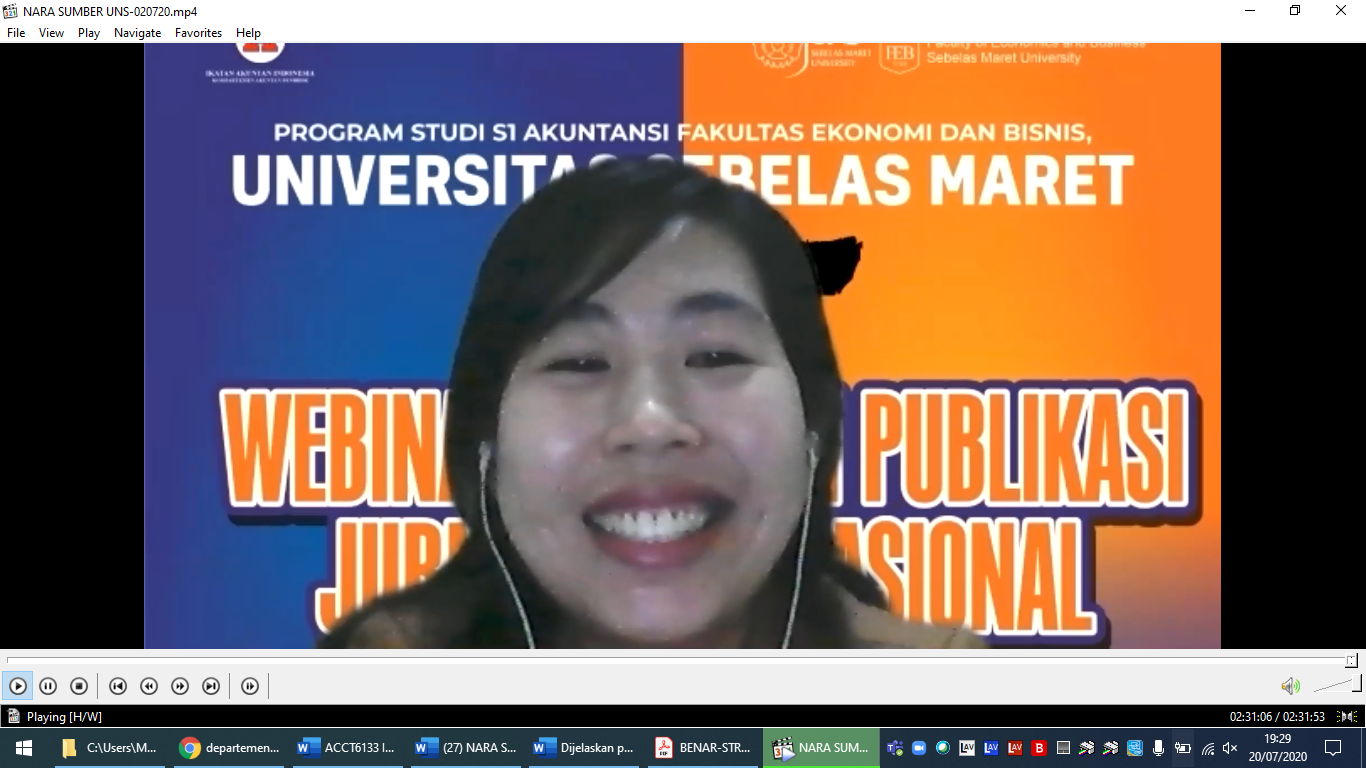 Tips publikasi di jurnal internasional bereputasi harus follows the guide for authors, submit artikel ke scope jurnal yang sesuai, mematuhi etika publikasi, avoid grammatical error, cite target journal dan  practice and patience.
Pernyataaan itu disampaikan oleh Dr. Meiryani.,SE.,Ak.,MM.,M.Ak.,CA lecturer specialist doctoral Binus University. Dengan scopus H index 8; documents: 66 dalam presentasinya pada Webinar Strategi Publikasi Jurnal Internasional yang diselenggarakan oleh Departemen Akuntansi Universitas Sebelas Maret, Selasa, 30/6/2020.
Dr. Meiryani menjelaskan dalam menulis paper atau articles dalam introduction harus established the importance of this research topic dan describes a gap in the research. Research gap harus berdasarkan teori dan penelitian sebelumnya atau penelitian terakhir.
Lebih lanjut Dr. Meiryani memberikan tips dalam melakukan literature survey, tidak perlu membaca semua artikel/paper, cukup look at the abstracts for journal aricles to decide whether they are relavant before reading the whole piece, tuturnya.
Selanjutnya Dr. Meiryani menjelaskan fungsi literature review seperti identify the key debates in your research area which includes the theories or ideas of researchers in the field dan analyse the assumptions of other researchers.
Dalam webinar tersebut Dr. Meiryani juga memberikan tips lulus tepat waktu bagi mahasiswa/I program doktoral seperti pemilihan topik disertasi yang tepat, manajemen waktu yang tepat. Lebih lanjut Dr. Meiryani menjelaskan jangan salah memilih promotor. Karena promotor merupakan orang yang mempromosikan mahasiswa/i doktoral menjadi doktor.
Kesabaran dan semangat yang kuat, fokus dalam mengerjakan disertasi merupakan kunci sukses lulus tepat waktu program doktor, tuturnya.
MY