International Seminar "Are Accounting Academics Culturally Intelligent?"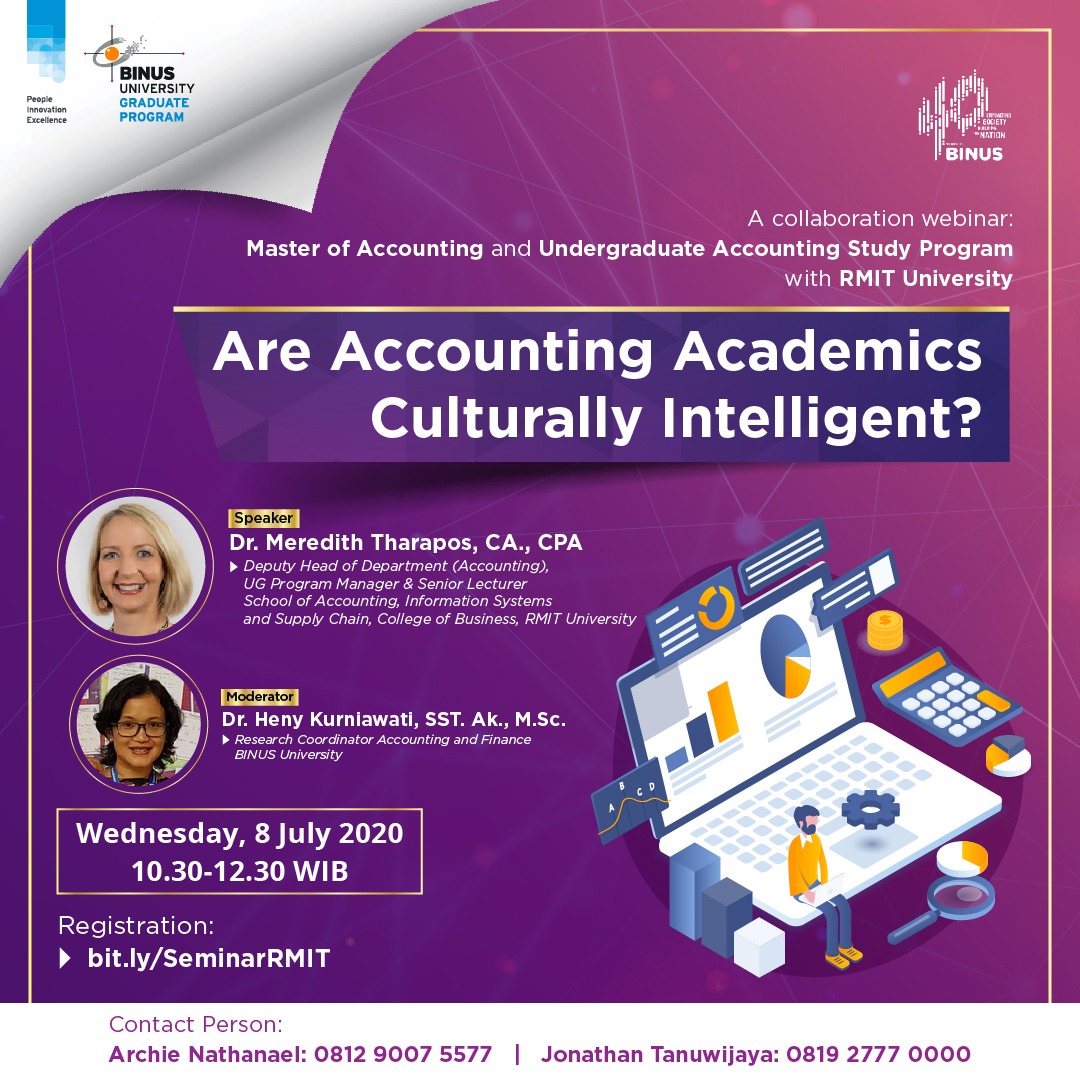 ? Master of Accounting & Undergraduate Accounting Study Program BINUS University dengan RMIT University dengan bangga mempersembahkan Seminar Internasional "?
Halo Bapak/Ibu dan teman-teman Binusian,
Pembahasan dunia akuntansi tidak selalu hanya berbicara mengenai angka dan data. Lebih jauh dari itu, akuntansi merupakan ilmu yang memiliki cakupan bidang luas. Salah satunya adalah budaya. Profesi Akuntan terutama Akuntan Pendidik nyatanya juga dituntut untuk memiliki kecerdasan berbudaya. Di Indonesia kecerdasan budaya ini penting juga dimiliki oleh Akuntan Pendidik, mengingat beragamnya kebudayaan yang kita miliki. Selain itu, Profesi Akuntan dimasa yang akan datang juga dituntut untuk berinteraksi tidak hanya dengan masyarakat lokal tetapi juga masyarakat global. Sehingga kecerdasan berbudaya bukan lagi sebuah pilihan.
Dalam seminar kali ini, Dr. Meredith Tharapos, CA., CPA. (Deputy Head of Department, UG Program Manager & Senior Lecturer School of Accounting, Information Systems and Supply Chain, College of Business, RMIT University – Australia) akan membagikan pandangannya mengenai dunia pendidikan akuntansi serta hubungannya dengan kecerdasan budaya.
Seminar akan dilaksanakan pada:
? Rabu, 8 Juli 2020
⏰ 10.30 – 12.30 WIB
Zoom (TBA)
Registration: bit.ly/SeminarRMIT
FREE!!!!
Anda akan mendapatkan:
? Knowledge
? E-certificate
➕ SAT points
Untuk info lebih lanjut dapat menghubungi:
(1)  Archie Nathanael Mulyawan
? : +62 812 9007 5577
? line: archienathanael
(2) Jonathan Tanuwijaya
?: +62 819 2777 0000
? line:jonathan3811
Best Regards,
Committee