Current Issues in Research Method (Series 1 BINUS X TARC – Malaysia)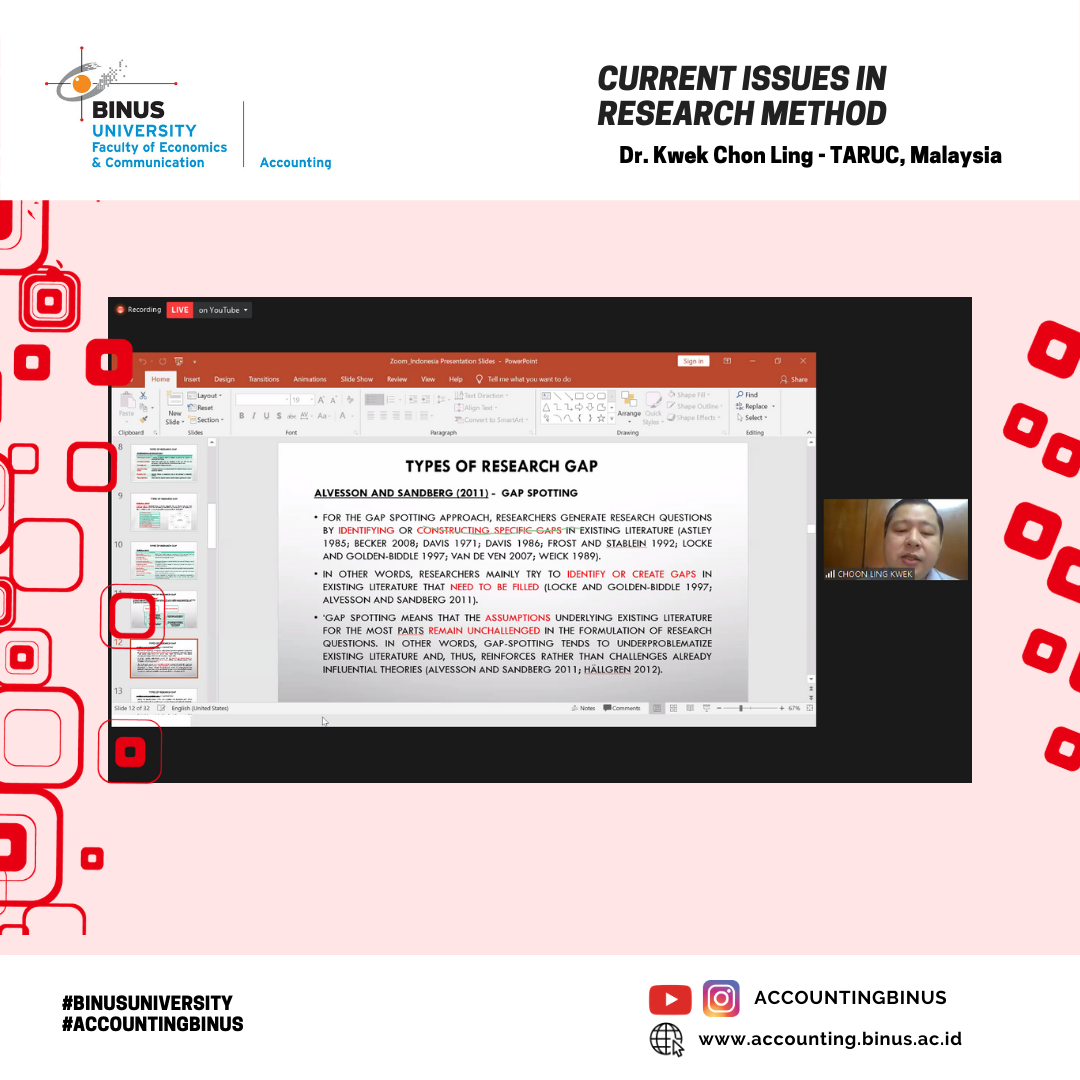 Pada 18 Juni 2020, BINUS University dan Tunku Abdul Rahman College University (Malaysia) dengan bangga mempersembahkan seminar dengan tema "Current Issues in Research Method" yang dibawakan langsung oleh Dr. Kwek Choon Ling selaku Associate Professor Department of Management – TARC, Malaysia dengan moderator oleh Dr. Heny Kurniawati selaku Research Coordinator Accounting & Finance Department.
Acara ini mengawali rangkaian seminar yang diadakan oleh BINUS dan TARC University Malaysia dalam beberapa hari ke depan. Acara ini dibuka dengan mendengarkan kata sambutan dari Bapak Gatot Soepriyanto, Ph.D. selaku Dean of Faculty of Economics & Communication, BINUS University dan Dr. Chin Mui Yin selaku Deputy Dean Faculty of Accountancy, Finance & Business, TARC-Malaysia.
Pada acara ini, Dr. Kwek memberi penjelasan pengetahuan terbaru dalam membuat penelitian yang baik. Beliau juga menjelaskan secara dalam mengenai Research Gap. Dengan adanya seminar ini diharapkan semakin banyak orang yang tertarik dalam melakukan penelitian.
Untuk video selengkapnya dapat dilihat di sini.
AW
#binusuniversity #binus #accountingbinus #financebinus #iafbinus #accountingtechnology #tarc #seminarinternational #currentissue #researchmethod