Brownbag Juni 2020 – Qualitative Research Using Nvivo With Agustinus Bandur, Ph.D.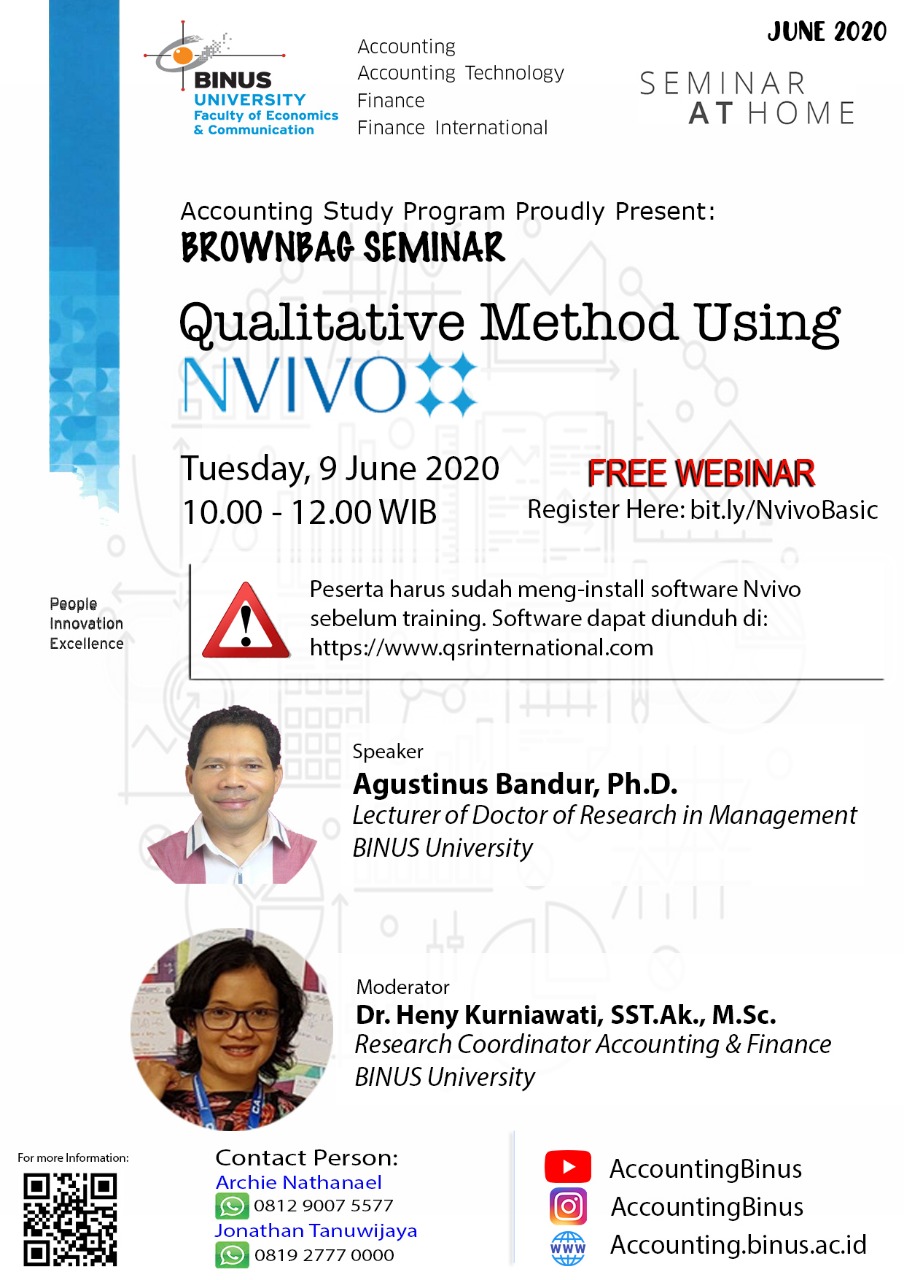 ? Accounting Study Program (Accounting, Finance, Accounting Technology, and Finance International Program) Binus University dengan bangga mempersembahkan Online Brownbag Seminar "Qualitative Research Using Nvivo" ?
Hello teman-teman Binusian,
Penelitian akhir merupakan kewajiban untuk menyelesaikan suatu jenjang pendidikan baik tingkat sarjana, master dan doktoral. Penelitian yang dilakukan dapat menggunakan metode kualitatif, salah satunya dengan wawancara. Untuk menganalisa hasil dari wawancara dapat digunakan aplikasi pengolah data yaitu NVivo. Aplikasi ini sangat berguna bagi peneliti yang akan menganalisa hasil wawancara yang sudah dilakukan. Bagaimana cara peneliti menggunakan Nvivo? Apa yang perlu dipelajari dan dipersiapkan dalam menggunakan Nvivo?
Dalam seminar kali ini, Bapak Agustinus Bandur, Ph.D. selaku pembicara Brownbag Seminar Qualitative Research Using Nvivo akan memberikan pengarahan dan penjelasan yang dapat menambah ilmu serta wawasan baik untuk para dosen ataupun mahasiswa yang akan melakukan kegiatan penelitian.
Seminar akan diadakan pada:
? Selasa, 9 Juni 2020
⏰ 10.00 – 12.00 WIB
Zoom (TBA)
Registration: bit.ly/NvivoBasic
SEMINAR GRATIS!!!!!
Keuntungan yang akan anda dapatkan:
? Knowledge
? E-certificate
➕ SAT points
*Perlu diingatkan untuk mengisi data diri dengan BENAR!! Bila terjadi kesalahan dan melakukan protes setelah sertifikat disebar, panitia tidak akan BERTANGGUNG JAWAB untuk mengganti sertifikat yang telah dibuat dan untuk SAT silahkan mengurus sendiri melalui SASC!!
**LINK untuk mengikuti Zoom akan dikirimkan paling lambat 10 menit sebelum acara dimulai melalui email.
Apabila ada pertanyaan kembali, dapat menghubungi:
(1)  Archie Nathanael Mulyawan
? : +62 812 9007 5577
? line: archienathanael
(2) Jonathan Tanuwijaya
?: +62 819 2777 0000
? line:jonathan3811
Best Regards,
Committee