BINUS X CPA Seminar – Economic Crisis: Uncertainty due to COVID-19 Toward Professional Employees Worldwide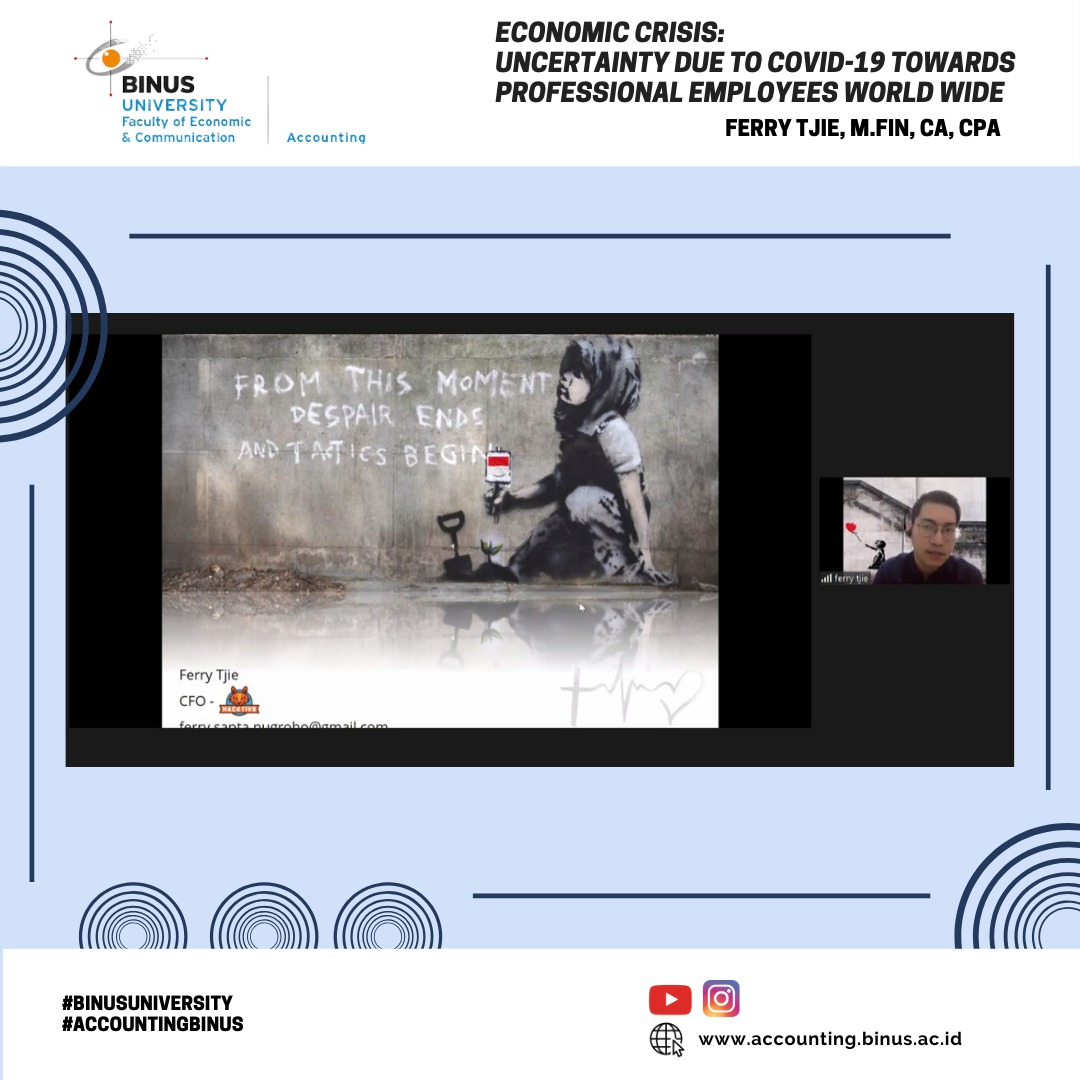 Accounting Study Program (Faculty of Economic and Communication) Binus University sukses mengadakan international seminar yang berkolaborasi bersama CPA Australia dengan topik "Economic Crisis: Uncertainty due to Covid-19 Toward Professional Employees Worldwide" pada Senin 18 Mei 2020.
Pembicara pada seminar kali ini dibawakan oleh CFO dari Hactiv8 (Bootcamp Coding) yaitu, Bapak Ferry Tjie, M.Fin, CA, CPA(Aust). bersama dengan Bapak Wishnu Armand Kameshwara, S.E., M.Ak., Ak., CA., CPA. selaku moderator dari Faculty Member of Accounting Study Program Binus University. Bapak Ferry menyampaikan pentingnya seorang top management untuk selalu memperhatikan perusahaan serta karyawan nya agar keberlangsungan dapat terjaga serta keharmonisan karyawan pun terjamin. Selain itu, perlu diperhatikan bahwa dengan situasi yang tidak pasti ini menyulitkan perekonomian industri dan bisnis, sehingga banyak karyawan yang dirumahkan maupun diberhentikan.
Bagaimana kondisi yang dapat dijalani oleh para karyawan profesional saat ini? Apa yang perlu dipertimbangkan serta perencanaan yang dapat dibuat terkait dengan informasi yang didapat?
Untuk video selengkapnya, dapat di cek disini
AW