Covid-19 and its Impact on the Financial Services Sector – Dr. Chow Yee Peng (TARC – Malaysia)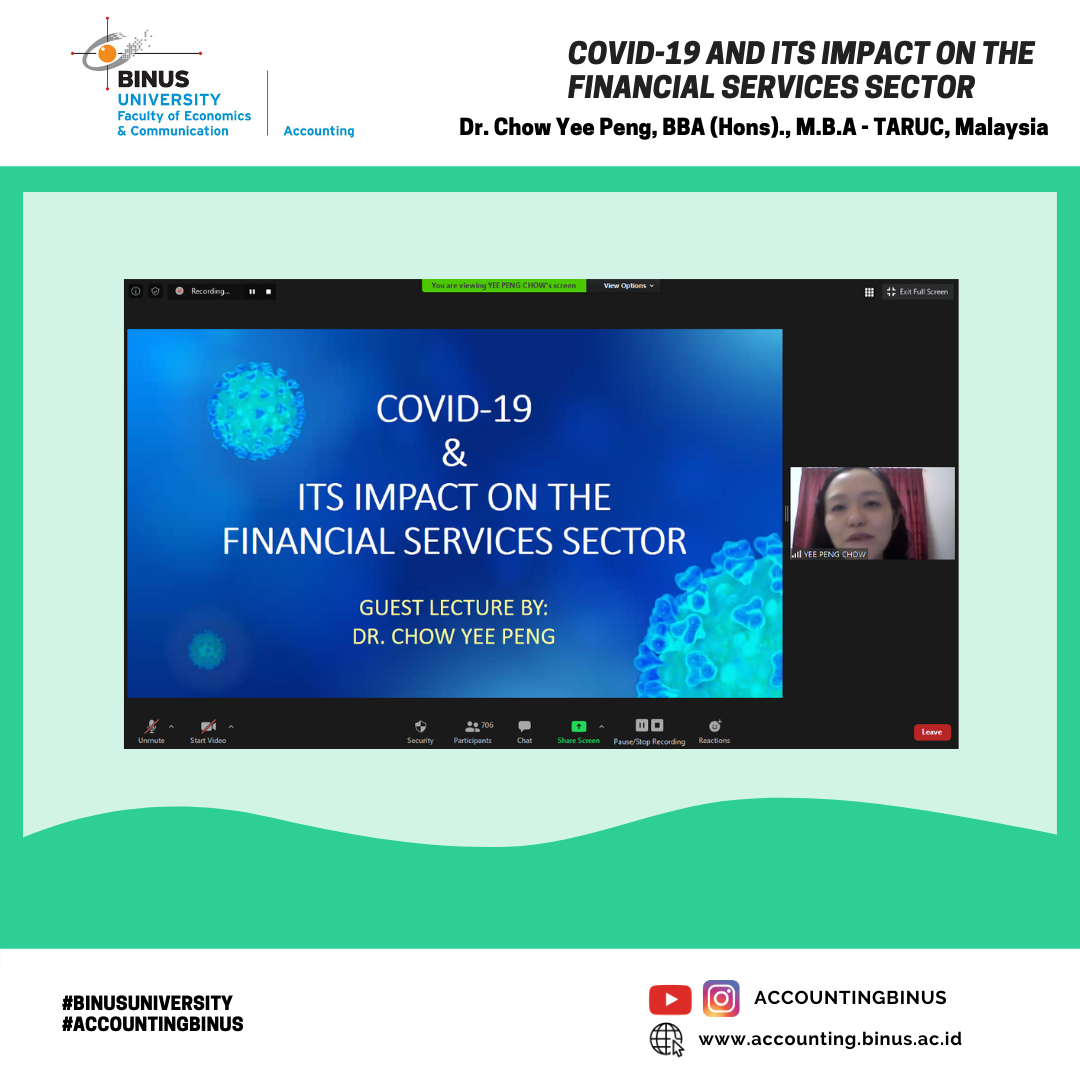 Accounting Study Program (Faculty of Economics & Communication) BINUS University sukses bekerjasama dengan Tunku Abdul Rahman College University (Malaysia) dalam menyelenggarakan seminar internasional secara online dengan judul "Covid-19 and Its Impact on the Financial Services Sector" pada 20 Mei 2020. Adapun pembicara dalam seminar ini adalah Dr. Chow Yee Peng (Senior Lecturer TARC University, Malaysia) dan dimoderatori oleh Ibu Shinta Amalina H., Ph.D. (Lecturer Specialist-S3, BINUS University).
Dalam paparannya, Dr. Chow memaparkan bagaimana dampak pandemi COVID-19 terhadap beragam sektor finansial, mulai dari perbankan, pasar modal, asuransi dan masih banyak lagi. Sektor keuangan akan mengalami guncangan akibat pandemi ini, sehingga mereka perlu berbenah dan beradaptasi dengan kondisi ini. Tujuannya agar mereka tidak tergerus dalam persaingan zaman.
Acara ini juga merupakan salah satu acara terbesar yang diadakan Accounting BINUS University, dimana peserta seminar yang hadir dalam acara seminar online ini mencapai 700 orang.
Untuk video selengkapnya dapat dilihat di sini.
#binusuniversity #accounting #tarc #indonesia #malaysia #covid19 #pandemic #impact #financialsector
AW