[Pengumuman] Hasil Tes Tertulis Asisten Lab Periode Ganjil 2020 – 2021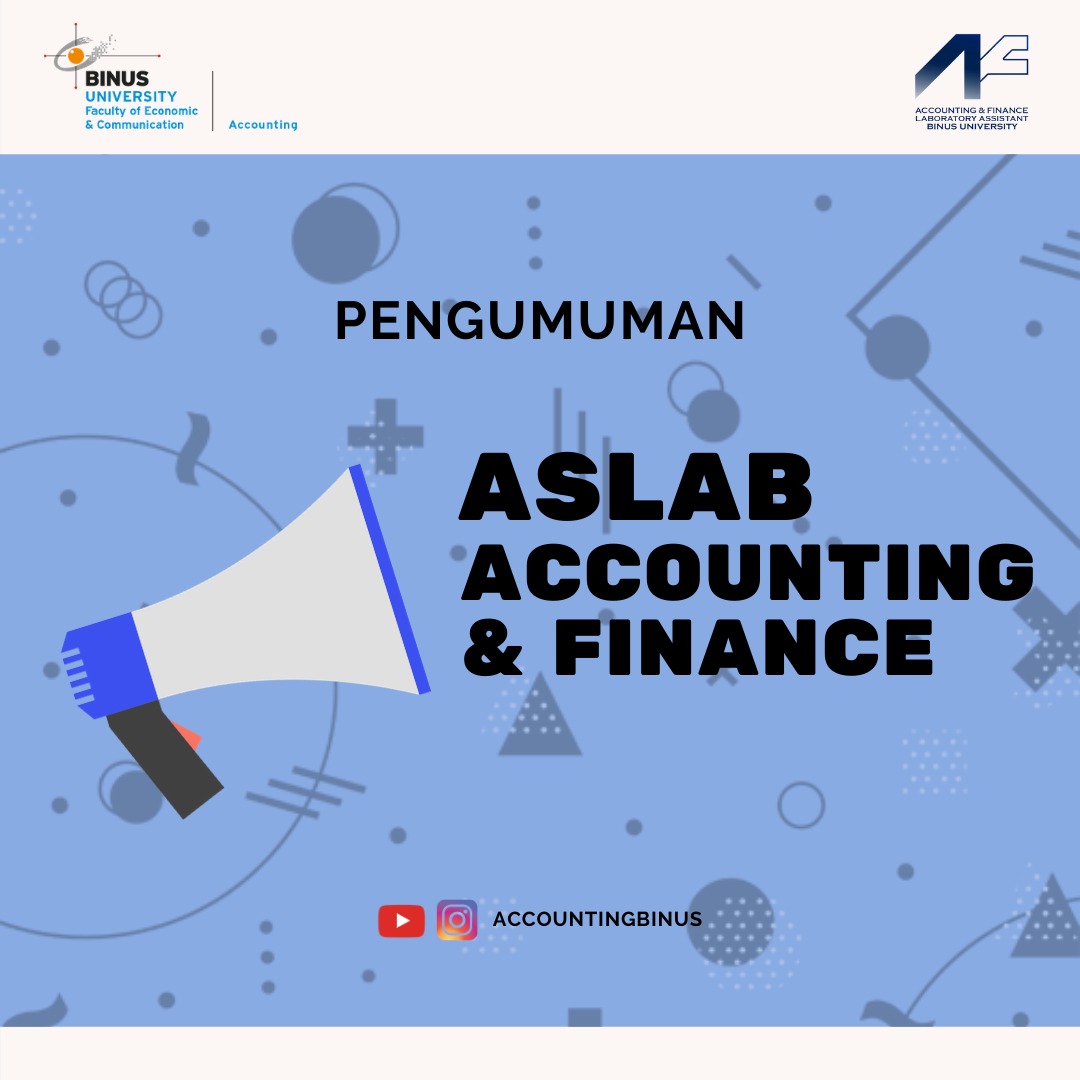 Selamat Pagi,
Semoga rekan-rekan peserta Accounting and Finance Assistant Recruitment selalu dalam keadaan sehat.
Sebelumnya kami mengucapkan terima kasih atas partisipasinya dalam perekrutan penerimaan Asisten Baru Lab Akuntansi Periode Semester Ganjil 2020/2021.
Setelah rekan-rekan mengikuti Tes Tertulis yang telah diadakan oleh Tim Recruitment Assistant Accounting Laboratory. Bagi peserta yang Lolos Tes Tertulis, dapat mengikuti tahap selanjutnya yaitu Tes Mengajar dan Interview.
Adapun Persyaratan Mengikuti Tes Mengajar dan Interview Sebagai Berikut:
Materi Tes Mengajar: Peserta boleh memilih salah satu materi tes mengajar yang berkaitan tentang Akuntansi/Pajak/Finance.
Materi tes mengajar dibuat dalam bentuk file Ms. Powerpoint dan menggunakan Bahasa Inggris berisikan maks 5 slide dan 1 slide kesimpulan.
Dokumen yang Wajib Dilampirkan Sebgai Persyaratan Mengikuti Tes Mengajar dan Interview :
No
Nama Dokumen
Keterangan
1
Surat Lamaran (dalam bentuk PDF)
Ditujukan kepada

Ibu Maya Safira Dewi, S.E.,Ak.,M.Si., CA.

Head of Accounting and Finance Laboratory

 2
Foto Binusian Card (dalam bentuk JPG)
1 lembar
3
Sertifikat TOEFL (dalam bentuk JPG/PDF)
Dapat di download di Binus Maya (jika ada hanya tes toefl saat masuk di Binus)
4
Sertifikat Kejuaran Lomba Akuntansi jika ada (dalam bentuk JPG/PDF)
Membuat video singkat berisikan perkenalan diri setiap peserta dan peserta wajib memberikan ide-ide atau inovasi yang bisa diterapkan di Lab Akuntansi. Maksimal durasi yaitu 1 menit.
Persyaratan di atas dikirimkan lewat email ke: Mahda Karina (mahda.karina@binus.edu), Agustinus Winoto (agustinus.winoto@binus.edu), Ibu Maya (mdewi@binus.edu), dan Admin Lab Akuntansi (adminlabakt@binus.edu) paling lambat 30 Mei 2020.
Namun dikarenakan adanya Pandemi Virus COVID-19, maka untuk jadwal Tes Mengajar dan Interview akan diinformasikan kembali kepada rekan-rekan baik melalui via email maupun Line.
Bagi peserta yang Tidak Lolos pada Tes Tertulis Accounting and Finance Assistant Recuitment Periode Ganjil 2020-2021 tetap semangat dan masih ada kesempatan untuk mengikuti perekrutan di tahun depan.
Demikian informasi ini saya sampaikan. Jika ada informasi yang kurang jelas rekan-rekan dapat bertanya kepada Team Accounting and Finance Assistant Recruitment.