International Online Seminar "Covid-19 and its Impact on the Financial Services Sector"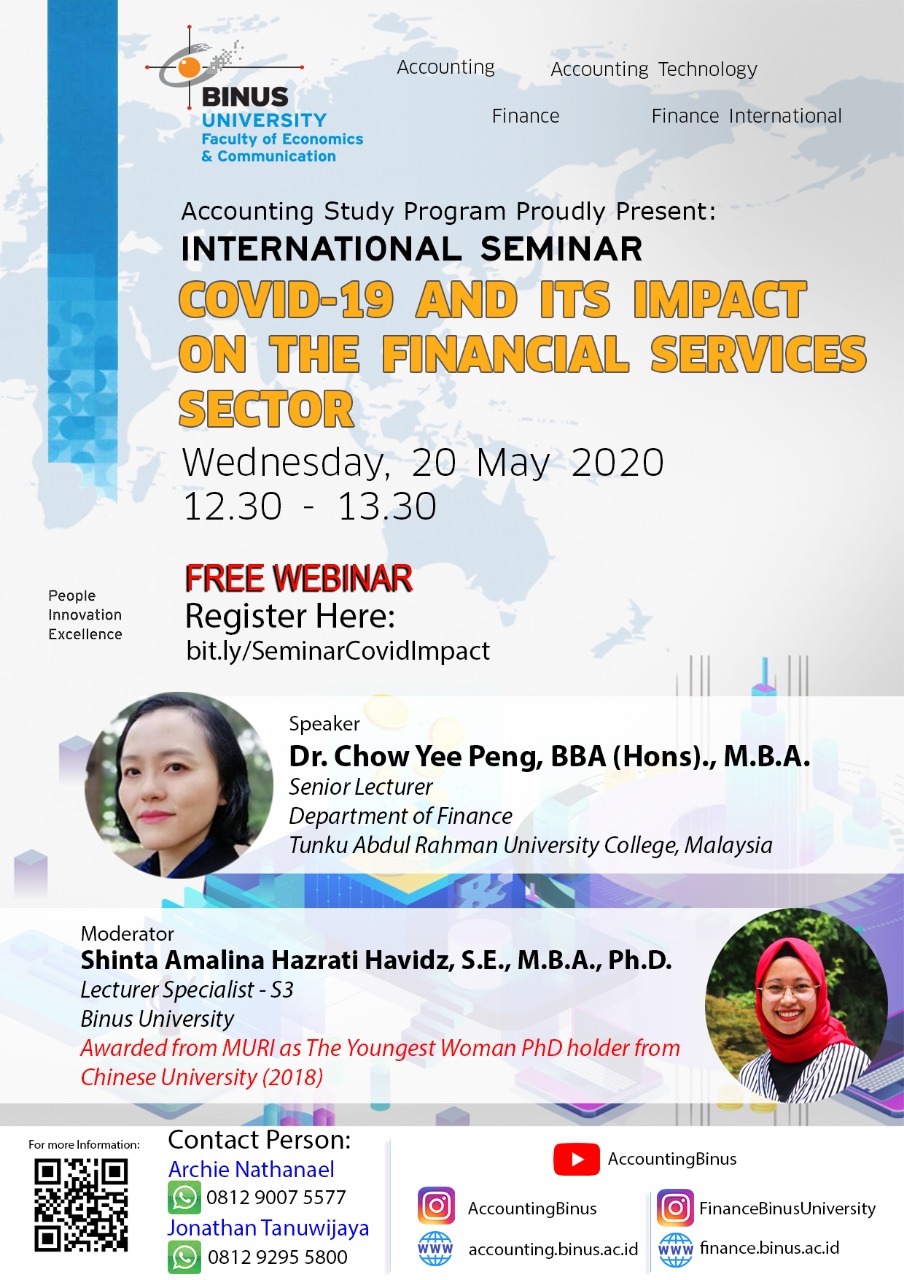 📢 Accounting Study Program (Accounting, Finance, Accounting Technology, and Finance International Program) Binus University proudly present International Online Seminar "Covid-19 and its Impact on the Financial Services Sector" 📢
Hello Binusian,
Covid-19 is currently becoming a trending topic because the spread of pandemic Covid-19 causing much loss and danger to all countries in the world. From the economic sideview, it slowed in the first quarter of 2020, companies already implement work from home and laid off some of the employees. This also had an impact on the financial reporting system that was postponed for 2 months. In addition, what are the impacts of Covid-19 in financial industry sector? How the companies cope with the Covid-19 pandemic? Are you curious about the current condition that we are facing right now?
In this seminar, Dr. Chow Yee Peng (Tunku Abdul Rahman University College, Malaysia) will explain the impact that caused by Covid-19 on industrial activites in the financial sector and how solutions can be implemented regarding with the spread of Covid-19
Seminar will be held on:
📆 Wednesday, 20 May 2020
⏰ 12.30 – 13.30 WIB
Zoom (TBA)
Registration: https://bit.ly/SeminarCovidImpact
FREE!!!!!
Benefits:
📚 Knowledge
📃 E-certificate (International Seminar)
➕ SAT points
For more information, please contact:
(1)  Archie Nathanael Mulyawan
📞 : +62 812 9007 5577
📲 line: archienathanael
(2) Jonathan Tanuwijaya
📞: +62 812 9295 5800
📲 line:jonathan3811
Best Regards,
Committe