Talkshow with Jurusanqu (Accounting – 16 April 2020)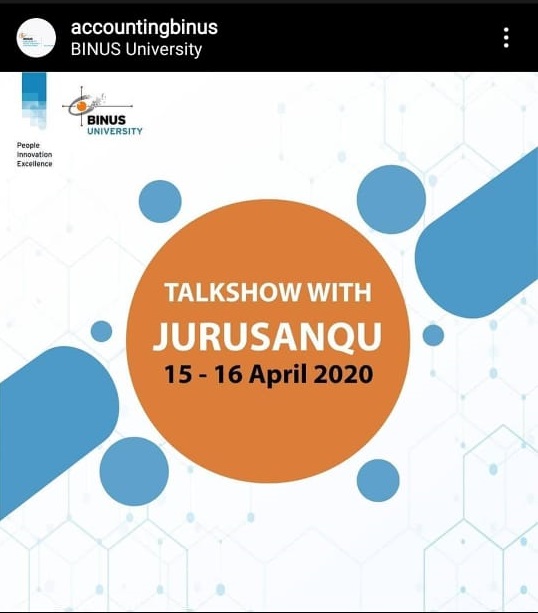 Hai Sobat BINUS!
Trial Class is Back!!! Bagi kamu yang terlewat mengikuti trial class online minggu lalu, Yuk ikutin trial class dengan tema: Talkshow with Jurusanqu. Acara Free pastinya!!
Trial Class merupakan Program BINUS yang dibuat khusus untuk Siswa/i supaya bisa merasakan secara langsung bagaimana berkuliah di BINUS dengan jurusan yang Sobat BINUS minati dan tentunya akan membuat Sobat BINUS lebih yakin lagi dengan Jurusan tersebut.
Nah.. ini kesempatan kalian untuk dapat langsung mengenal dan berdiskusi dengan jurusan serta dosen yang ahli di bidangnya.
Ayo daftarkan diri kalian dan ajak teman-teman kamu melalui Trial Class Online yang akan kami adakan Rabu 15 April 2020 dan Kamis, 16 April 2020.
Untuk registrasi dapat melalui link berikut ini (form.binus.org/talkshowwithjurusanqu) Atau jika ada hal yang ingin ditanyakan terkait program dapat menghubungi CP kami Gerry Meiiko 0896 7854 2239
Jangan lupa follow dan add social media BINUS University lainnya ya!
Line: @gabung_BINUS
Twitter: @gabung_BINUS
Facebook: gabung_BINUS
IG: gabung_BINUS
Youtube: gabung_BINUS
Follow dan add social media Accounting BINUS, guys!
IG : accountingbinus
Youtube : accountingbinus
#dirumahaja #diamdirumahaja #Workfromhome #learnfromhome #trialclassonline #BINUSUNIVERSITY #accountingbinus