Seminar Akuntansi Teknologi – Current Practice of Accounting Technology in the Business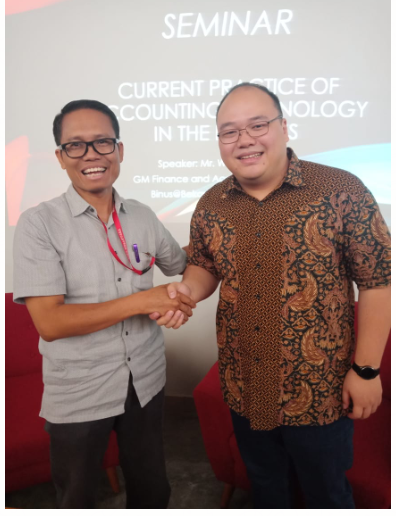 Pada tanggal 11 Desember 2019 bertempat dikampus Binus@bekasi telah diadakan seminar Akuntansi berjudul  Current Practice of Accounting Technology in the Business yang dihadiri oleh seluruh mahasiswa akuntansi Binus@Bekasi bertempat di Ruang 412.
Acara dimulai pada pukul 10.00 WIB di buka oleh Ketua Program Akuntansi Binus@Bekasi Toto Rusmanto, MComm, PhD dan acara langsung dilanjutkan dengan pemaparan tentang perkembangan akuuntansi teknologi dan penerapannya kini dalam dunia usaha. Pembicara seminar adalah General Manager Accounting and Finance Vidio.Com. Bapak William Djumadi.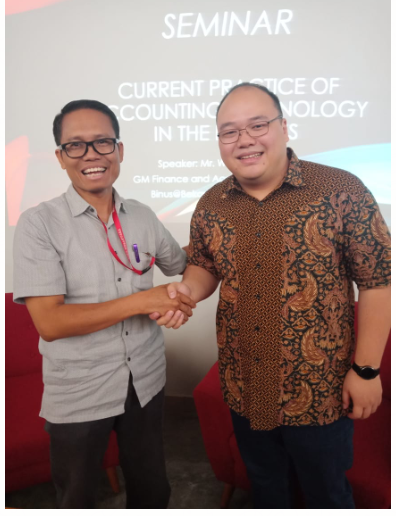 Dalam acara tersebut pak William berbagi tips bahwa untuk sukses sekarang ini dalam dunia kerja khususnya akuntansi, mahasiswa harus smart, fleksible, berwawasan luas dan bisa mnyelesaikan masalah.
Beliau menegaskan, walaupun sekarang teknologi informasi makin canggih, akuntansi tak lepas dari penggunakan teknologi dan software namun, kepahaman tentang basic accounting secara konvensional masih sangat diperlukan oleh mahasiswa.
Demikian informasi tentang seminar akuntansi di Binus@Bekasi.
TR