Sonnia Christin – Bank Mandiri, Tbk. (Persero)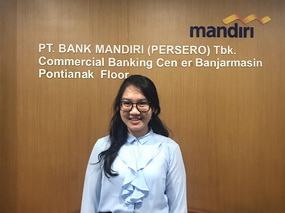 Enrichment Program Binus University atau yang lebih dikenal dengan sebutan Program 3+1, dimana mahasiswa Binus University melaksanakan perkuliahan di kampus selama 3 tahun, dan 1 tahunnya akan melaksanakan program pengembangan diri yang mempersiapkan mahasiswa untuk memasuki industry kerja dan how to deal with society. Sehingga diharapkan dengan adanya program ini, saat mahasiswa tamat dari Binus University, mahasiswa sudah lebih siap terjun ke lapangan pekerjaan dan komunitas dengan berbekal pengalaman selama 1 tahun menjalankan Enrichment Program tersebut. Enrichment Program Binus University terdiri atas 5 jenis track yang bisa dipilih, salah satunya dan yang saya pilih adalah Internship.
Pada periode pertama Enrichment Program, saya melaksanakan internship di PT. Bank Mandiri (Persero) Tbk. Area Pontianak pusat Kalimantan Barat. Merupakan suatu kebanggaan tersendiri bisa diterima dan bekerja sebagai karyawan magang di salah satu bank terbesar di Indonesia dan juga merupakan BUMN. Selama melaksanakan internship di Bank Mandiri, saya diberi kesempatan dan dipercayakan untuk bekerja di unit kerja Business Support, Business Control, dan Commercial Banking Center. Kegiatan saya selama internship adalah melakukan verifikasi terkait general ledger posted atas transaksi harian teller (setoran, penarikan, transfer, etc.), transaksi harian document clearing, transaksi harian CCO (pengisian cash di ATM, penukaran CIT dengan bank lain, etc.). Selain melakukan verifikasi ataupun bisa disebut sebagai vouching dimana saya memastikan angka yang di jurnal sudah sesuai dengan bukti transaksi, saya juga melakukan cleansing document pembukaan rekening oleh CS dan verifikasi ke system untuk memastikan bahwa semua field sudah terisi dengan benar dan sesuai dengan bukti dokumen identitas nasabah, jikalau tidak maka akan saya catat dalam catatan temuan untuk kemudian ditindaklanjuti. Selain itu, saya juga melakukan verifikasi terhadap dokumen harian SAP untuk memastikan bahwa apa yang sudah diposting di SAP sudah sesuai dengan bukti transaksi, dan juga nomor dokumennya sudah benar. Terkait dengan unit kerja CBC, saya melakukan tugas analisa laporan keuangan dari calon debitur dan membuat summary atas hasil analisa saya yang kemudian diserahkan ke senior untuk dilakukan review dan pengambilan keputusan terhadap pengajuan kredit dari calon debitur tersebut.
Adapun matakuliah yang sudah saya pelajari selama 5 semester awal perkuliahan sangat membantu saya dalam pekerjaan saya selama internship. Dimana saya mempraktekkan langsung bagaimana melakukan analisa laporan keuangan dengan melihat rasio-rasio keuangan yang ada, dan komponen lainnya seperti sustainability, dan lain sebagainya yang sudah dipelajari dalam matakuliah Business Valuation Analysis, dan Corporate Financial Management, serta Financial Modelling Laboratory. Matakuliah Financial Audit juga dipraktekkan dalam pekerjaan saya terkait verifikasi angka dalam laporan / jurnal yang sudah diposting dan melaporkan temuan yang ada.
Menurut saya program 3+1 Binus University sangat membantu mahasiswa untuk bisa mengenal working place sesungguhnya sebelum lulus, dan mempersiapkan kita sebagai mahasiswa untuk lebih siap di kemudian hari. Tentunya program ini juga membantu para lulusan Binus University lebih dikenal dan memiliki chance lebih besar diterima oleh companies karena sudah ada bekal pengalaman selama 1 tahun enrichment (internship).