Dr. Heny Kurniawati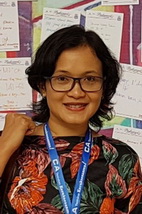 Work:
Bina Nusantara University
Faculty of Economics and Communication
Department of Accounting and Finance
Jl. K.H. Syahdan No.9, Palmerah
Jakarta 11480, Indonesia

Work Phone: +62 21 5345830 ext. 2346
Work Email: hkurniawati@binus.edu
Biography
Heny Kurniawati obtained her Diploma IV degree from Sekolah Tinggi Akuntansi Negara (Indonesian State College of Accountancy), her Master degree from University of Illinois at Urbana Champaign, US, and her Phd at Ghent University, Belgium. She is a lecturer at the Department of Accounting and Finance of Bina Nusantara University where she teaches Corporate Reporting, Auditing, Corporate Governance, and Research Methods in bachelor and master degree.
Teaching
C

orporate Reporting
Auditing
Corporate Governance
Research Methods in Accounting and Finance
Research Expertise
Her research focuses on the role of auditing and corporate reporting within the context of emerging markets, especially Indonesia.
Awards
LPDP Awardee for Doctoral Degree Program (2014 – 2018)
Best paper on International Conference on Accounting and Finance, Yogyakarta (2018) for "Foreign ownership and board membership from developed versus emerging countries and auditor choice: evidence of Indonesia"
Editorial boards and refereeing
–
Recent publications
Kurniawati, H., Van Cauwenberge, P., & Vander Bauwhede, H. (2019). Affiliation of Indonesian audit firms with Big4 and second-tier audit firms and the cost of debt. International Journal of Auditing. (Article in press)
Books/book chapter
–
Community Development
PKM Dana KUR dan pemberdayaan pengusaha perempuan UMKM di Jakarta Pusat (Hibah Dikti 2018 Pengabdian Masyarakat)
AW