KEPEMIMPINAN BARU IAI PERIODE 2018-2022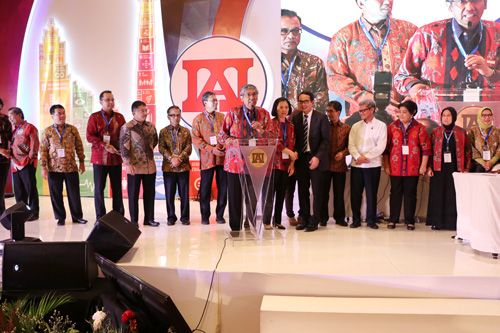 Akuntan Indonesia (IAI) telah menyelenggarakan Kongres XIII IAI di Jakarta pada 10-12 Desember 2018. Acara ini terdiri dari Seminar Internasional dan Rapat Anggota dihadiri oleh lebih dari 1.500 akuntan terkemuka dan anggota IAI dari seluruh Indonesia. Bagian penting dari pertemuan umum adalah pemilihan Dewan Nasional IAI, di mana lebih dari 1.000 anggota memberikan suara untuk menentukan masa depan IAI dan profesi akuntansi di Indonesia.
Diadakan sebagai bagian dari peringatan HUT ke-61 IAI, Kongres XIII IAI secara resmi dibuka oleh Presiden Republik Indonesia, Ir. H. Joko Widodo (Jokowi), di Istana Negara di Jakarta. Dalam pidatonya, Jokowi menyoroti peran penting akuntan dalam mendukung inisiatif Pemerintah melalui penciptaan sistem pelaporan yang efektif, ekonomis, cepat, dan akuntabel yang dapat digunakan oleh para pemangku kepentingan di Indonesia.
Prof. Mardiasmo terpilih secara aklamasi sebagai Ketua Dewan Pengurus Nasional IAI untuk periode 2018-2022. Prof. Mardiasmo saat ini menjabat sebagai Wakil Menteri Keuangan Republik Indonesia. Ia juga menjabat sebagai anggota Dewan Komisioner Otoritas Jasa Keuangan (ex-officio Kementerian Keuangan). Dia adalah guru besar di Fakultas Ekonomi dan Bisnis di Universitas Gajah Mada. Selama masa kepemimpinan sebelumnya, Prof. Mardiasmo telah memimpin IAI untuk meluncurkan Chartered Accountant (CA) Indonesia, sebagai kualifikasi untuk akuntan profesional di Indonesia. IAI juga meluncurkan Program IAI for Society, yang bertujuan untuk memberikan kontribusi lebih banyak, tidak hanya untuk profesi tetapi juga pada pengembangan ekonomi Indonesia.
Berikut nama-nama anggota Dewan Pengurus Nasional IAI terpilih untuk periode 2018-2022:
1) Prof. Mardiasmo (Ketua);
2) Prof. Ainun Naim;
3) Bambang Pamungkas;
4) Bachtiar Arief;
5) Dadang Kurnia;
6) David Elezaar Sonak;
7) Dwi Setiawan Susanto;
8) Isnaeni Achdiat;
9) Ito Warsito;
10) Maliki Heru Santosa;
11)  Prof. Lindawati Gani;
12)  Prof. Nunuy Nur Afiah;
13)  Rosita Uli Sinaga;
14)  Prof. Sidharta Utama;
15)  Prof. Sri Mulyani, and
16)  Tia Adityasih.
Tentang IAI
IAI adalah organisasi profesi yang menaungi seluruh akuntan di Indonesia. IAI didirikan pada tanggal 23 Desember 1957 dilandasi semangat kebangsaan Akuntan Indonesia pada masa awal kemerdekaan RI. IAI merupakan anggota dan pendiri International Federation of Accountants (IFAC) dan ASEAN Federation of Accountants (AFA). Saat ini IAI juga menjadi anggota Chartered Accountants Worldwide (CAW), organisasi profesi yang menaungi akuntan profesional dengan designasi Chartered Accountant (CA) di seluruh dunia.
Sumber : http://iaiglobal.or.id/v03/berita-kegiatan/detailberita-1126-kepemimpinan-baru-iai-periode-20182022
MSD