ICAEW Regional Education Workshop
Pada tanggal 26 Oktober 2017, Jurusan Akuntansi dan Keuangan Binus University diundang oleh ICAEW, sebuah organisasi profesional akuntansi, untuk mengikuti ICAEW Regional Education Workshop di Ho Chi Minh City, Vietnam. Kesempatan langka ini jelas tidak dilewatkan oleh Jurusan Akuntansi dan Keuangan Binus University. Jurusan mengirimkan Ibu Sasya Sabrina sebagai perwakilan dari Binus University untuk mengikuti acara tersebut dan sebagai peserta dari Indonesia. Acara tersebut diselenggarakan di Hotel Novotel Saigon Center, Ho Chi Minh City, dan dihadiri oleh partner ICAEW dari Indonesia, Singapore, Malaysia, dan Vietnam.
Peserta dari Indonesia berangkat ke Ho Chi Minh City pada tanggal 25 Oktober 2017. Malam harinya, diadakan dinner bersama dengan Mr. Mark Billington yang merupakan ICAEW Regional Director South-East Asia. Acara dinner tersebut juga dihadiri oleh peserta dari Singapore, Malaysia, dan Vietnam.
ICAEW Regional Education Workshop dibuka oleh Mr. Mark Billington, kemudian dilanjutkan oleh Mrs. Wai San Siew, Regional Head of Education South-East Asia dengan menyampaikan penjelasan mengenai ACA. Sesi berikutnya adalah sesi workshops. Workshops ini dibagi menjadi sesi 1 dan sesi 2. Di setiap sesi, terdapat 3 grup/ kelas dengan topic yang berbeda. Topik di sesi 1 adalah Accounting, Assurance, dan Business Strategy, sedangkan topic di sesi 2 adalah Audit & Assurance, Financial Management, dan Financial Accounting and Reporting. Para peserta memilih 1 topik di setiap sesi, sehingga setiap peserta akan mengikuti 2 sesi workshop. Ibu Sasya Sabrina sendiri memilih topic Accounting untuk sesi 1 dan topic Financial Accounting and Reporting di sesi 2. Di sesi workshop ini, para peserta akan diberikan pembekalan terkait dengan ujian modul terkait yang sangat berguna bagi para peserta ketika mereka menjadi tutor/ trainer di universitas atau negara masing-masing untuk modul ICAEW.
Berikut dokumentasi acara ICAEW Regional Education Workshop: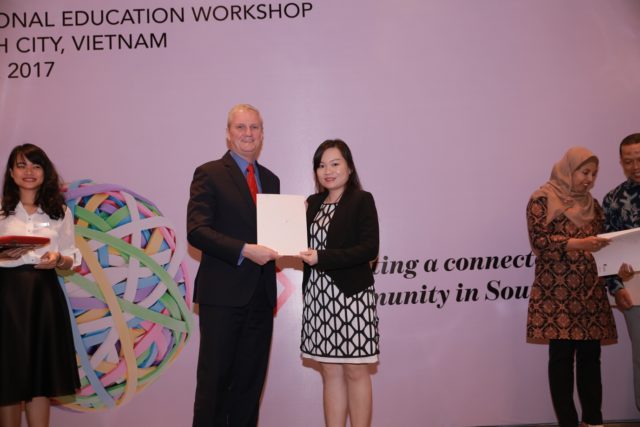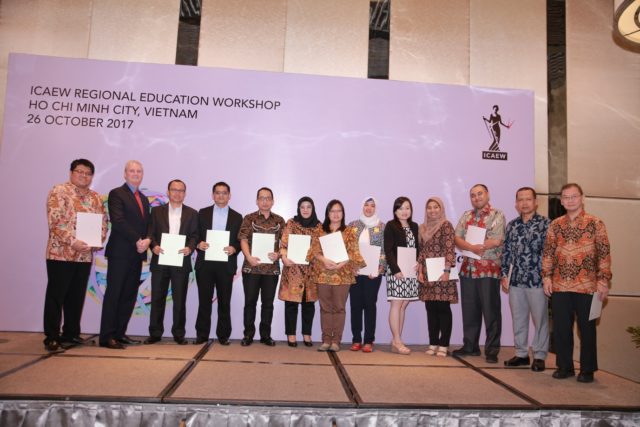 Acara ini sangat bermanfaat bagi para peserta dan Binus juga sangat bersyukur dapat diundang di acara tersebut. Semoga ke depannya, Binus dapat lebih banyak mendapat kesempatan serupa. (SS)