Kegiatan Ilmiah ICMA – Indonesia Branch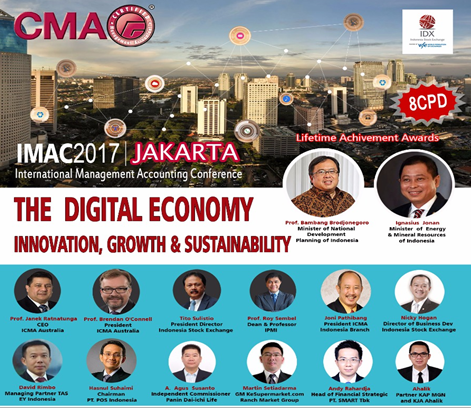 Institute of Certified Management Accountant Australia (ICMA) menyelenggarakan "International Management Accounting Conference 2017" dengan tema acara "The Digital Economy: Innovation, Growth and Sustainability". Menghadirkan para tokoh-tokoh papan atas pemerintahan yaitu Menteri BAPENAS Bapak Prof Bambang Brojonegoro dan Menteri Sumber Daya Alam dan Mineral Bapak Ignatius Jonan, beserta para professional dari Dalam dan Luar Negeri.. Acara di selenggarakan pada tanggal 06 Desember 2017di Indonsia Stock Exchange, Main Hall.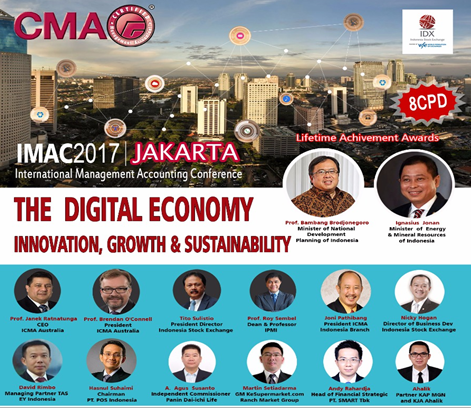 Tema kali ini menyoroti tentang perkembang ekonomi telah masuk kedalam era digital, bagaimana kesiapan Indonesia pada tataran ekonominya dalam menyongsong isu isu tersebut, dari perkembangan,  inovasi,  sampai pada tingkat keberlanjutan yang ramah lingkungan telah dibahas tuntas dalam forum berskala internasional ini. Bahasan – bahasan oleh para pakar dimulai dari Economic Outlook 2018; Finance Business Partnering, Financial Technology, Opportunities and Challenges for The Digital Economy, Artificial Intelligence: The New Operating Model for Business Automation, Sustainable Cost Accounting, Anti-Money Laundering Legislation and CFO Responsibilities.
Total peserta yang mengikuti acara ini berjumlah kurang lebih 300 orang berasal dar berbagai isntitusi dan latar belakang pekerjaan yang berbeda; dari institusi swasta, pemerintah, dosen, mahasiswa dan praktisi. Pihak Universitas Bina Nusantara mengirimkan 2 dosen akuntansi untuk mengahadiri acara tersebut.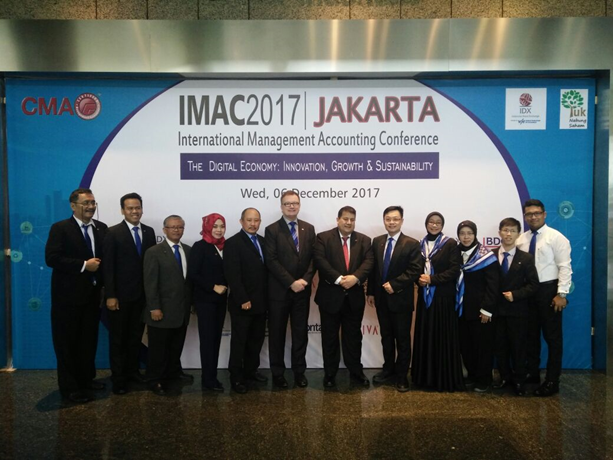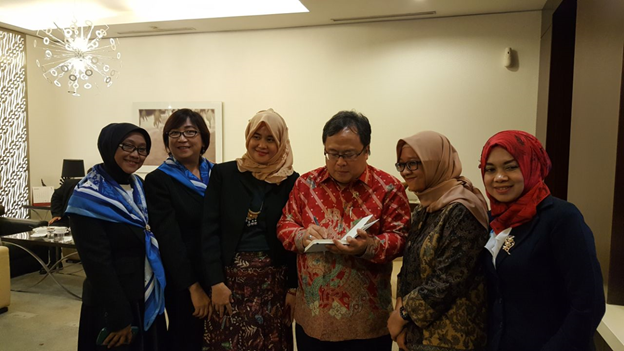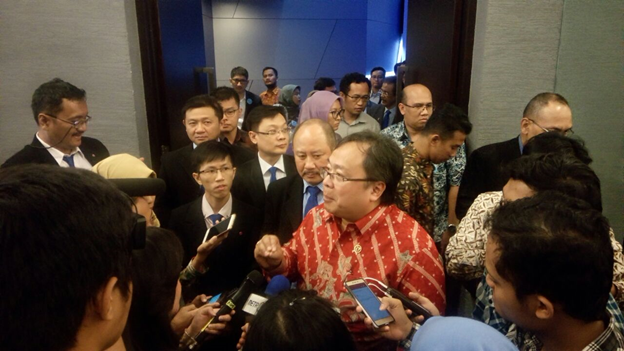 -LL