WORKSHOP ON RESERACH METHODOLOGY : TARGETING AN INTERNATIONAL JOURNAL and ENHANCING THE OUTCOME OF DATA ANALYSIS by USING MIXED-METHOD RESEARCH
Hai Binusian !
            Bina Nusantara kembali mengadakan workshop on research methodology yang diperuntukkan untuk dosen. Workshop yang diangkat dengan tema Targeting An International Journal and Enhancing The Outcome of Data Analysis by Using Mixed-Method Research diadakan di Kampus Binus Anggrek pada hari Jum'at, 9 Juni 2017. Workshop ini mengundang pembicara yang memang sangat pakar pada bidangnya, yakni : Ibu Elvia R. Shauki, PhD selaku dosen Faculty of Economics and Business, Universitas Indonesia dan Dosen di School Of Comerce, UNISA Business School, University Of South Australia.
            Workshop ini dibagi menjadi dua sesi dimana pada setiap sesi setelah pembicara menyampaikan materinya, para peserta dipersilahkan untuk bertanya dan berinteraksi langsung dengan pembicara. Materi yang dibahas oleh pembicara seperti :
Targeting an International Journal :
What is important in writing ?
What are they looking for ?
Finding a slab of time is a challenge
A peer reviewed journal, an impact Factor, a scopus indexed journals, a high ranked journals, and why it is important ?
What to write and what "not" to write ?
How to find and choose a journal in which to publish your paper (using journal finder software);
Finding the right journal for you (having exercises in class); and
What do you need to do once you have chosen a journal ?
Enhancing The Outcome of Data Analysis by Using Mixed-Method Research :
What do we mean by "enhancing" or "improving"
Quantitative, Qualitative, and Mixed/Triangulation Methods
How do we define mixed methods research ?
Why should we apply mixed-research ?
The importance of Mixed Research
When should we conduct mixed-research ?
Looking at the research design of mixed-research
Understanding different types of mixed-research (three different stages)
Understanding types of research instruments in mixed-research (survey, interview, FGD, Observation, Discourse Study, Content Analysis, Study Field, Case Study).
Understanding your Qualitative Data Well
Integrating Qualitative and Quantitative Methodologies
Having conflicting results ?
The role of software (NVIVO 11 and Leximancer) in enhancing the outcome.
Workshop ini dilaksanakan dengan lancar dan ditutup dengan rangkuman point-point penting dan foto bersama.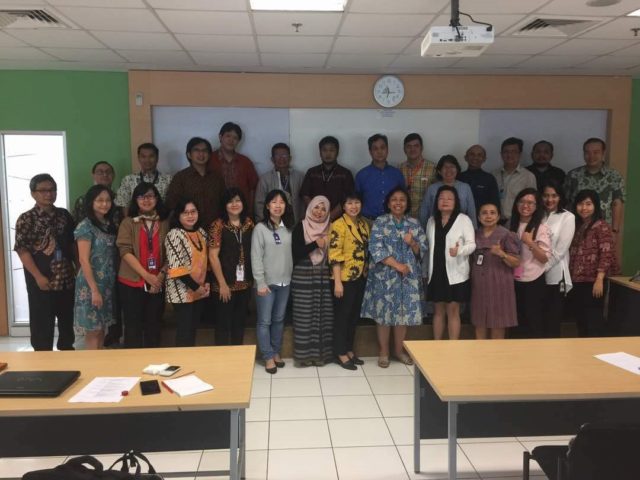 by : MY