Transformation of Indonesia E-Financial Services
Tanggal 10 Mei 2016 lalu, BINUS UNIVERSITY bersama dengan perusahaan PT. Asuransi Simas NET mengadakan seminar bertajuk "Financial Service Industry in E-Commerce Perspective". Seminar yang didominasi oleh mahasiswa jurusan accounting dan finance ini dihadiri oleh 200 mahasiswa baik dari BINUSIAN maupun  mahasiswa non-BINUSIAN.
Seminar ini mengangkat topik perkembangan e-commerce yang sangat pesat di Indonesia, yang dibawakan langsung oleh Teguh Aria Djana selaku President Director dari Simasnet, dan juga Yosept Dirgo selaku Director dari Simasnet yang juga merupakan alumni BINUS angkatan tahun 1991.
Dalam seminar ini dijelaskan, dengan adanya perkembangan e-commerce yang begitu pesat tentu saja banyak sekali aspek-aspek yang berubah, baik dari segi ekonomi maupun dari segi financial itu sendiri. Perkembangan e-commerce yang menjamur di Indonesia mengakibatkan perkembangan pasar yang membesar, konsumen lebih mudah mendapatkan barang yang mereka inginkan sehingga perputaran uang yang terjadi semakin cepat.
Dengan adanya trend tersebut munculah istilah O2O, dengan pengertian online to offline. Dewasa ini, konsumen lebih sering menggunakan konsep jual beli O2O karena dianggap lebih praktis dan efisien. Konsep O2O merupakan konsep penjualan yang berawal dari kegiatan online, baik dari penawaran barang maupun jasa. Setelah itu transaksi jual belinya akan dilakukan secara offline. Hal tersebut merupakan dampak dari adanya perkembangan e-commerce yang ada di Indonesia.
Simasnet disini, tidak semata-mata hanya menjelaskan perkembangan e-commerce saja, tetapi Simasnet menekankan bahwa sebagai konsumen yang ikut mengikuti arus bisnis tersebut, konsumen harus pintar dalam memilih cara pembayaran yang lebih efisien dan aman. Di dalam seminar ini, Simasnet memberikan banyak pengertian cara pembayaran yang cashless, menjadi e-financial, seiring dengan perubahan system perbelanjaan, juga kiat Simasnet dalam mengembangkan digital marketing didalamnya.
Simasnet sendiri menjelaskan sudah banyak sekali financial service yang saat ini bisa didapatkan dengan mudah. Contohnya doku, e-money, klik BCA, uangku, Faspay, maupun Paypal.
"" Karena basic bisnis kita adalah e-commerce, khususnya di financial service, tentu saja digital marketing merupakan salah satu tools kita untuk memasarkan services kita. Dengan adanya digital marketing diharapkan dapat menaikan jumlah trafiic website kita, dan tentunya menghasilkan sebuah konversi", Tutur Teguh Aria Djana selaku President Director dari Simasnet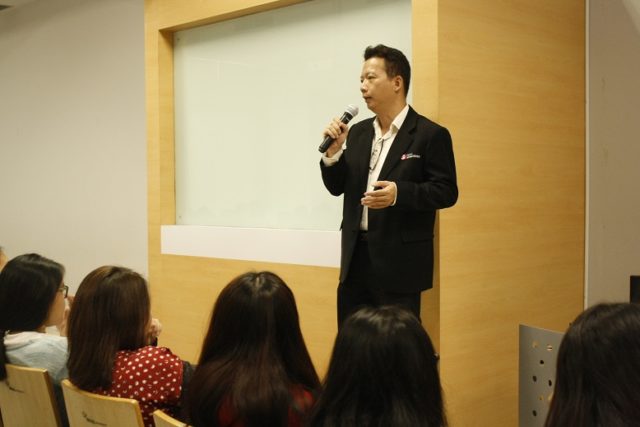 msd