Tourism Industry in Indonesia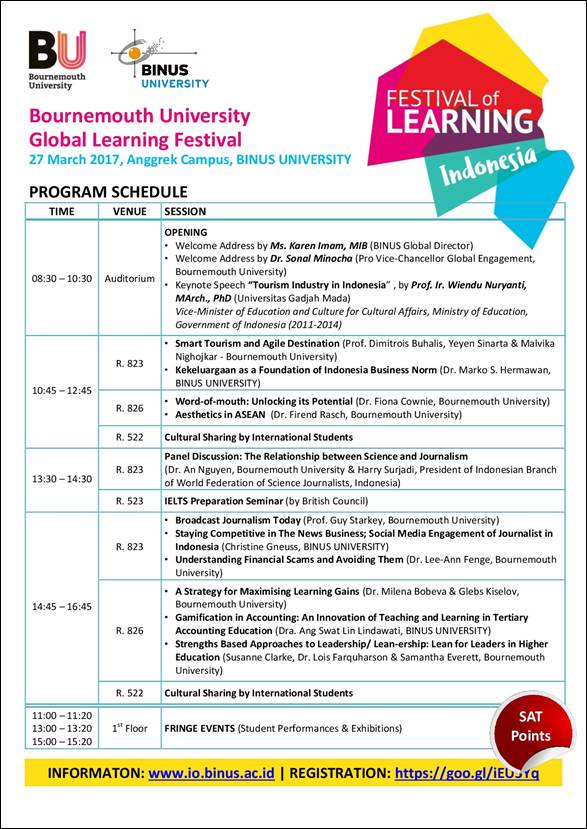 Dear Valuable Students,
With great pleasure, we would like to invite you to the event "Global Festival of Learning".
This event, runs in partnership between Bournemouth University and BINUS UNIVERSITY, showcases the expertise of both institutions through interactive sessions and cultural activities which cover the topics on tourism and business, marketing, science and journalism, social interactions and leadership and innovative learning.
The Global Festival of Learning will be conducted on:
Opening Seminar "Tourism Industry in Indonesia"
Day & Date
Time :
: Monday, March 27th, 2017
08:30 – 10:30
Venue : BINUS UNIVERSITY Anggrek Campus
Auditorium, 4th Floor
Jl. Kebon Jeruk Raya No. 27, Jakarta Barat 11530, Indonesia
Capacity : 600 seats (BINUS students, lecturers, and partners)
Speaker : Prof. Ir. Wiendu Nuryanti, MArch., PhD (Minisitry of Education, Government of Indonesia – Alumni of Bournemouth University )
Benefit : SAT points, International Experience
Registration : https://goo.gl/iEU3Yq
For the workshop and panel discussion, kindly find the details rundown of the event below:
For further information kindly download the flyer in this link: https://goo.gl/bSIv8K.
Note: The students will get SAT points of 7 and international experience.
Thank you for your attention and participation.
TL