Binus University berhasil meraih Best Essay pada IAF 18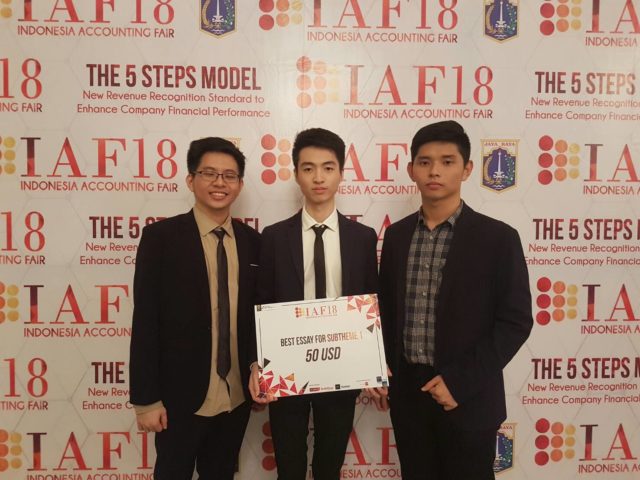 Pada tahun ini, Binus University kembali berpartisipasi dalam kompetisi Indonesia Accounting Fair 18th (IAF 18th). IAF 18th yang diadakan oleh mahasiswa FEB dari Universitas Indonesia, kembali mengundang mahasiswa dari berbagai universitas di seluruh Indonesia untuk berpartisipasi dalam kompetisi ini. Dengan tema "The Five Step Model: New Revenue Recognition Standards to Enhance Company Financial Performance", panitia IAF mengajak para peserta untuk lebih memahami standard IFRS terbaru, yakni IFRS 15.
Pada kompetisi ini sebanyak 24 tim berhasil maju ke main round IAF 18th dari total 72 tim yang mendaftar. Kompetisi ini diadakan sejak tanggal 5 Maret hingga 10 maret, dan terdiri dari serangkaian acara mulai dari kompetisi, seminar dan training. Binus University sendiri mengirim satu tim yang beranggotakan 3 orang untuk mewakili Binus dalam event ini. Tim binus berhasil meraih penghargaan dikategori Best Essay Subtheme 1. Essay yang bertemakan pengaruh implementasi IFRS 15 terhadap perusahaan real estate and property Sinar Mas Land Ltd, disusun dalam waktu 2 hari. Essay ini disusun dengan menerapkan segala aspek implementasi yang ada pada IFRS 15 seperti: scope, recognition, measurment dan lainnya.
"IAF 1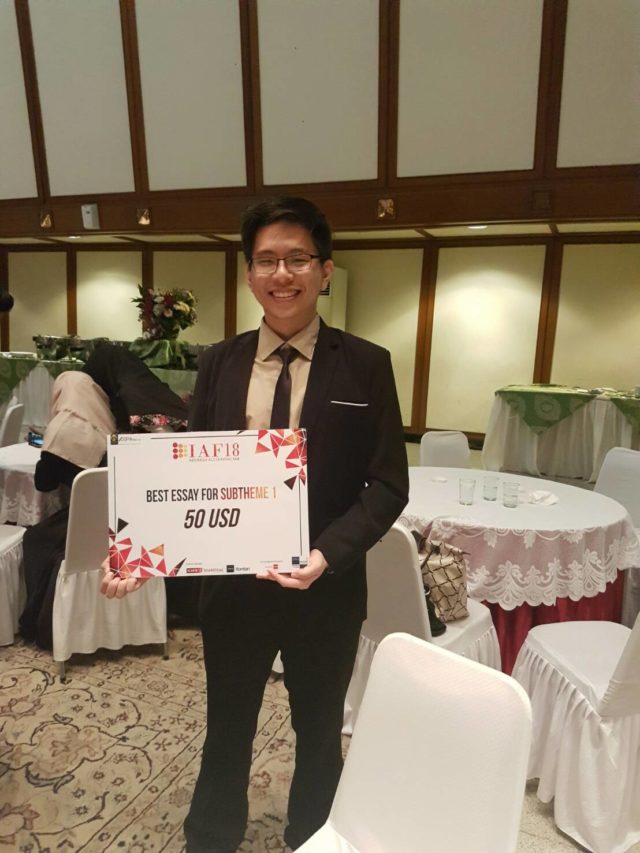 8 ini merupakan salah satu kompetisi luar biasa. Saya sangat bangga dapat mewakili Binus bersama kedua teman saya Willnaldo dan Ivan dalam kompetisi ini. Kompetisi ini dibagi menjadi beberapa kompetisi, dan salah satunya adalah essay. Saya akui pengerjaan essay yang bertemakan implementasi IFRS 15 pada industri real estate tidaklah mudah, kami harus mengumpulkan data – data, memahami peraturan – peraturan baru dan lama, dan tentunya mengidentifikasi proses bisnis real estate sendiri. Meskipun demikian, saya merasa senang , dengan jerih payah kami dalam penyusunan essay, kami dapat meraih penghargaan kategori best essay. Tentunya kami sangat bersyukur akan hal ini dan juga ingin berterimakasih kepada Miss Sasya yang telah membimbing kami pada lomba ini, pihak jurusan akuntansi dan keuangan atas supportnya, dan banyak pihak lain yang terus mendukung kami." – Joshua Kevin Lianto
kd