BINUS Accounting Students Won 2nd Place on IAF 17-Accounting Competition
3 mahasiswa Jurusan Akuntansi BINUS juara kedua pada IAF 17 – Accounting Competition yang diumumkan pada tanggal 16 Maret 2016 di Universitas Indonesia.
Indonesia Accounting Fair (IAF) merupakan lomba akuntansi yang diadakan rutin setiap tahun oleh Fakultas Ekonomi & Bisnis Universitas Indonesia. Dan IAF pada kali ini merupakan lomba yang diselenggarakan untuk ke 17 kalinya.
Perwakilan dari Jurusan Akuntansi & Keuangan yang mengikuti lomba IAF 17 ini dibagi menjadi 2 tim. 1 tim lainnya terdiri dari mahasiswa semester 6 yaitu Edeline Wijaya, Helena, dan Maretta. Sedangkan 1 tim terdiri dari mahasiswa semester 8 yaitu Errza Widhavian, Michael, dan Yoshua Gautama.
Para peserta terlebih dahulu harus melewati babak penyisihan secara online yang diikuti oleh 80 tim dari berbagai universitas di Indonesia, yang kemudian akan diambil 35 tim terbaik untuk menuju main round competition pada tanggal 15-16 Maret 2015. Di hari pertama, 35 tim yang lolos diberikan pertanyaan yang dibagi menjadi 2 babak yaitu Written Test dan Individual Test. Pada babak Written Test, setiap tim diberikan 60 soal untuk dikerjakan dalam waktu 60 menit. Sedangkan untuk Individual Test, soal yang diberikan terkait Laporan Arus Kas. Dari kedua babak ini, 24 tim dengan nilai tertinggi akan melaju ke babak selanjutnya.
Kedua tim dari BINUS berhasil melaju ke 24 tim terbaik. Babak selanjutnya untuk ke 24 tim terbaik ini adalah Amazing Race. Babak kali ini akan dibagi menjadi 8 pos dimana setiap pos terdapat interactive games sebelum menjawab soal yang dberikan. Dari 24 tim tersebut, akan diambil 8 tim dengan nilai tertinggi untuk melaju ke babak semifinal.
Tim BINUS yang terdiri dari Errza, Michael dan Yoshua berhasil menduduki peringkat 8 dan melaju ke babak semifinal yaitu Debate Battle. Topik yang dijadikan bahan untuk diperdebatkan adalah mengenai IFRS 15 dan IFRS 16 yang merupakan standard baru yang diterbitkan oleh IASB. Di babak ini, tim BINUS bertanding melawan Universitas Pelita Harapan. Debate Battle diawali dengan pernyataan konstruktif selama 5 menit yang diwakili oleh perwakilan tim, kemudian dilanjutkan dengan saling sanggah menyanggah pernyataan yang disampaikan selama 15 menit dan diakhiri dengan kesimpulan dari setiap tim. Dari babak ini, akan diambil 3 tim terbaik untuk bertanding di babak final.
Atas bimbingan dari Ibu Sasya Sabrina, S.E., M.M., tim BINUS berhasil masuk ke babak final untuk bertanding dengan Universitas Surabaya dan Universitas Widya Mandala. Di babak final ini terdapat 4 babak untuk menjawab soal teori ataupun hitungan. Pada akhirnya, tim BINUS berhasil menjadi second winner dalam kompetisi IAF 17 ini. Menjadi pemenang bukan karena tak pernah gagal, namun para pemenang tersebut tak pernah menyerah, "Turn your failure to success through prayer and hard work", ungkap 3 mahasiswa tersebut.
Congratulations to Errza, Michael and Yoshua, the winners of  the "IAF 17 – Accounting Competition"!!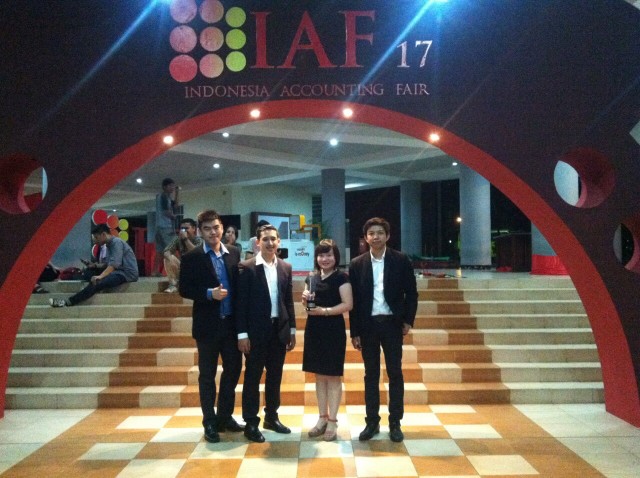 Winners (Left to Right): Michael, Errza Widhavian, Yoshua Gautama, Dosen Pembimbing: Sasya Sabrina, S.E., M.M.