Ivana Beatrice, Peraih Wibowo Award 53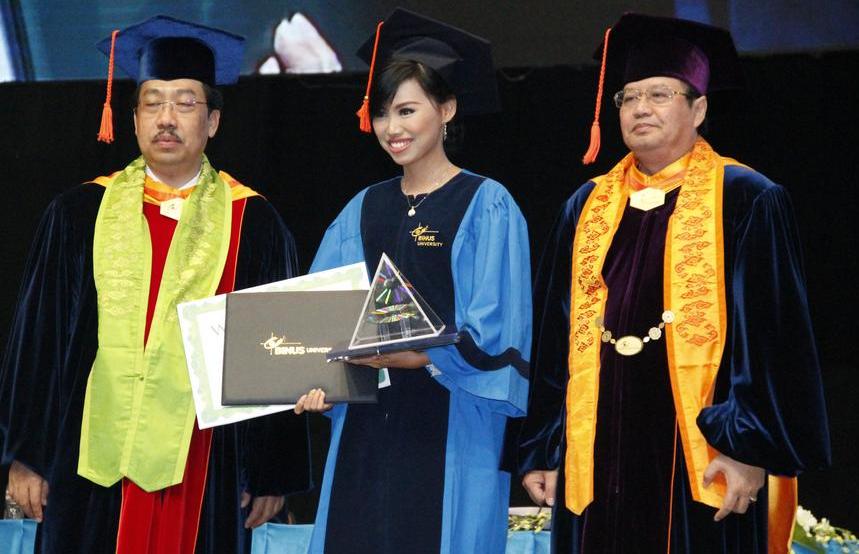 Ivana Beatrice, seorang Binusian 2015 yang memiliki segudang prestasi baru saja mengakhiri perjalanan kuliahnya dengan sebuah pencapaian yang luar biasa, Wibowo Award. Wibowo Award merupakan penghargaan yang diberikan di setiap wisuda kepada 1 (satu) orang wisudawan/ti yang berprestasi secara akademik dan aktif dalam kegiatan organisasi kemahasiswaan di lingkungan Universitas Bina Nusantara.
Ivana aktif dalam berbagai kegiatan organisasi antara Bina Nusantara English Club (BNEC), Google Student Ambassador, Deloitte Student Ambassador. Dalam menempuh pendidikan di bidang Akuntansi, Ivana seringkali memenangkan berbagai lomba yang bergengsi, seperti Best Business Case Presenter dalam lomba Institute of Chartered Accountants in England and Wales (ICAEW) Regional Business Challenge yang diadakan di Kuala Lumpur.
Ivana mempunyai prinsip bahwa ketika kesempatan datang, ambil saja, bisa atau tidaknya dipikirkan nanti. Karena dengan semakin banyak kita mempertimbangkan bisa atau tidak, pada akhirnya kita pasti mengisi pemikiran kita dengan kata tidak bisa. Ivana percaya bahwa ketika kesempatan telah diambil, melalui usaha dan kerja keras, pasti mendapatkan jalan menuju bisa. Dalam setiap usaha, mungkin kita mendapatkan tekanan yang luar biasa, bahkan kadang cukup stres menghadapinya, namun Ivana selalu menemukan posisi yang tepat untuk menikmati semua proses yang ada.
Semangat yang luar biasa itu didapatkan Ivana dari lingkungan dan orang-orang yang mendukung. Ivana juga memiliki passion untuk menjadi sosok yang lebih unggul dibanding hari kemarin. Mari kita teladani semangat Ivana dalam menjalani kehidupan perkuliahan.
Selamat Ivana Beatrice!