Ikatan Akuntan Indonesia International Seminar
Dalam rangka perayaan ulang tahun IAI ke 58, IAI (Ikatan Akuntan Indonesia) menggelar seminar Meet and Greet with Indonesia Accounting Students dengan tema "Inspiring Life of Accountant After Graduation" pada hari Senin, 16 November 2015 di Balai Kartini, Jakarta.
Beberapa universitas diundang IAI untuk menghadiri seminar tersebut, seperti Binus University, Universitas Tarumanegara, Universitas Indonesia, Universitas Mercu Buana, Universitas Diponegoro, President University, Universitas Trisakti, dan sebagainya.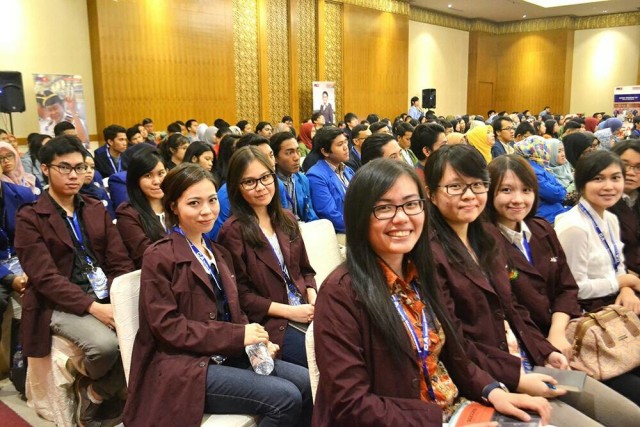 Seminar ini juga dihadiri oleh beberapa orang-orang hebat di dalam dunia akuntan, yaitu Olivia Kirtley (President, International Federation of Accountants) dan Ignasius Jonan (Minister of Transportation of the Republic of Indonesia) yang diundang IAI untuk memberikan motivasi dan inspirasi bagi mahasiswa Akuntansi untuk menjadi akuntan profesional di kemudian hari.
Olivia Kirtley membagikan beberapa tips yang telah Beliau terapkan dalam kehidupan karier Beliau sehingga dapat mencapai kesuksesan hari ini:
Lesson 1: Take Risk. It's worth! Olivia mengatakan bahwa jangan takut akan resiko yang harus kita tanggung karena resiko-resiko tersebut akan terbayarkan dengan kesuksesan yang kita capai. Apabila kita selalu memikirkan resiko yang akan kita hadapi kemudian kita kehilangan keberanian untuk mengambil tindakan, maka kita tidak akan mencapai kesuksesan tersebut.
Lesson 2: Don't be discouraged, never give up! Di dalam perjalanan menuju kesuksesan, kita akan dihadapi dengan berbagai rintangan yang menjatuhkan semangat kita. Jangan menyerah begitu saja.
Lesson 3: Grow deep and wide. Don't define yourself too narrowly. Potensi diri yang Anda miliki jauh lebih besar dari yang Anda bayangkan. Dunia begitu luas, jangan membatasi ruang berinovasimu.
Lesson 4: Seize the opportunity, even when they seem too hard. Ketika peluang datang, jangan sia-siakan. Raihlah peluang tersebut, jangan khawatirkan tingkat kesulitannya, karena peluang yang sama tidak akan datang untuk kedua kalinya.
Lesson 5: Help others succeed. Kesuksesan bukan berarti seberapa banyak hal yang kita miliki, melainkan seberapa banyak manfaat yang dapat kita bawakan bagi orang lain. Bantulah orang lain untuk mencapai kesuksesan.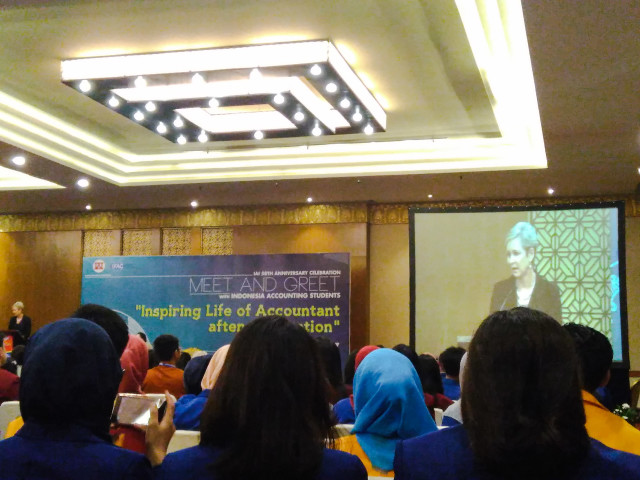 Ignasius Jonan, Menteri yang paling banyak dibicarakan, merupakan sosok yang sangat inspirasional bagi semua orang. Prestasi Beliau menghidupkan PT. KAI (Kereta Api Indonesia) membuat masyarakat sangat menghormati Beliau. Sebagai seorang Menteri, ternyata Pak Jonan sangat humoris. Di sesi terakhir seminar, kata-kata Beliau mampu membuat mahasiswa ketawa. Beliau menceritakan pengalaman-pengalaman ketika kuliah (Pak Jonan merupakan mahasiswa S1 Jurusan Akuntansi) dan pengalaman-pengalaman kerja Beliau.
Beliau mengatakan bahwa untuk menjadi seorang leader, hanya dibutuhkan dua hal, yaitu: bakat dan pengalaman hidup. "Leadership is a half talent, a half journey." Beliau juga menceritakan bagaimana Beliau berharap posisi Beliau sebagai Menteri Perhubungan dapat memberikan manfaat lebih luas untuk masyarakat Indonesia.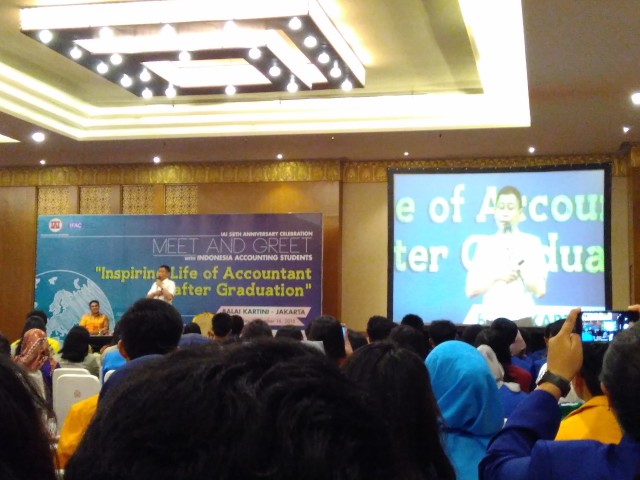 Semua orang sukses adalah orang yang berpikir tentang nilai mereka dan bagaimana mereka dapat memberikan manfaat bagi orang banyak.