Jurusan Akuntansi Internasional Binus Terakreditasi Dunia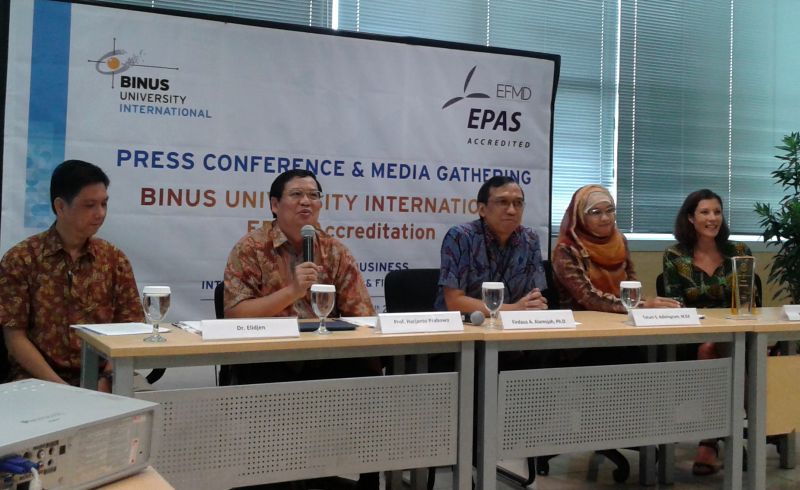 Program S-1 International Accounting and Finance, Fakultas Bisnis di Binus University International meraih akreditasi EFMD EPAS. Ini adalah sebuah akreditasi internasional untuk program akademis yang terafiliasi sekolah bisnis.
"Program tersebut menjadikan Binus satu-satunya perguruan tinggi di Indonesia yang berhasil meraih akreditasi internasional standar Eropa untuk sekolah bisnis dan manajemen," ujar Rektor Binus University, Prof. Dr. Ir. Harjanto Prabowo di Kampus Binus Senayan – The Joseph Wibowo Center (JWC), Jakarta, Selasa (20/1/2015).
Menurut Harjanto, berbagai prestasi ini sejalan dengan visi pemerintah untuk menjalankan pendidikan yang berkualitas. Binus sendiri telah mendaftarkan akreditasi internasional untuk berbagai bidang lain seperti teknik dan komputer.
"Ini bagian dari proses Binus yang lebih baik dengan memiliki visi sebagai world class university dan bermanfaat untuk mahasiswa ketika lulus kuliah," ucapnya.
Head of Program School of Accounting Binus University International, Dewi Fitriasari mengatakan, akreditasi internasional merupakan penerimaan dunia bahwa suatu kampus memiliki desain yang membuat mereka mampu mencetak lulusan yang kompetitif dengan lulusan berbagai negara.
"Ini suatu kebanggaan karena kita sudah dapat secara terbuka menyatakan bahwa Indonesia siap bertarung. Kita sudah punya universitas yang terakreditasi internasional," ujar Dewi.
Sementara itu, Executive Dean and Provost Binus International, Firdaus Alamsjah menjelaskan, persiapan meraih akreditasi ini dilakukan hingga dua tahun. Sesi visitasi para penilai dari EFMD tidak hanya dilakukan ke kampus, tetapi juga ke alumni dan pihak terkait lainnya.
"Ini merupakan pemicu yang sangat baik bagi civitas akademika di Binus. Karena dengan program International Accounting and Finance terakreditasi EFMD EPAS, berarti proses dan caranya bekerja dapat menjadi benchmark program-program lainnya," tutur Firdaus.