PELANTIKAN DEKAN FAKULTAS EKONOMI DAN KOMUNIKASI BINUS UNIVERSITY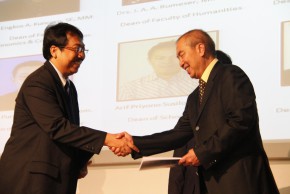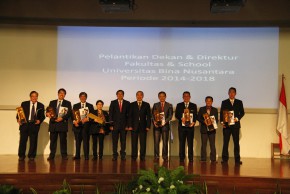 Pada hari Kamis, 28 Agustus 2014 bertempat di Auditorium Kampus Anggrek, BINA NUSANTARA mengadakan Pelantikan Dekan & Direktur Fakultas & School BINUS UNIVERSITY periode 2014 – 2018.
Hari tersebut merupakan permulaan bagi para pimpinan BINUS UNIVERSITY melakukan tanggung jawabnya sebagai pemegang kunci untuk mencapai visi BINUS UNIVERSITY yaitu "A World-class University, in continuous pursuit of innovation and enterprise."
Dr. Engkos Achmad Kuncoro SE., MM kembali dilantik menjadi Dekan Fakultas Ekonomi dan Komunikasi BINUS University. Fakultas ekonomi dan komunikasi BINUS University mencakup jurusan (department) Akuntansi, Hotel Management, dan Marketing Communication.
Upacara pelantikan dilakukan oleh Ir. Bernard Gunawan selaku Ketua Yayasan Bina Nusantara dan Rektor BINUS University Prof. Dr. Ir. Harjanto Prabowo, MM. Acara pelantikan Dr. Engkos Achmad Kuncoro, SE., MM. ini bersamaan juga dengan pelantikan delapan orang Deans/Directors of Faculty & Schools lainnya.  Acara ini juga diisi dengan penyajian musik kolintang dan angklung asuhan Ibu Ursula Indranila, membawakan lagu "I Have A Dream" dan "Alusiau". Suasana bertambah hangat dengan tampilnya Vice Rector Global Employability & Entrepreneurship Dr. Boto Simatupang dan kawan-kawan melantunkan lagu Tapanuli, "Alusiau".
Selamat kepada Dr. Engkos Achmad Kuncoro SE., MM.