Paper Competition Indonesia Accounting Fair 15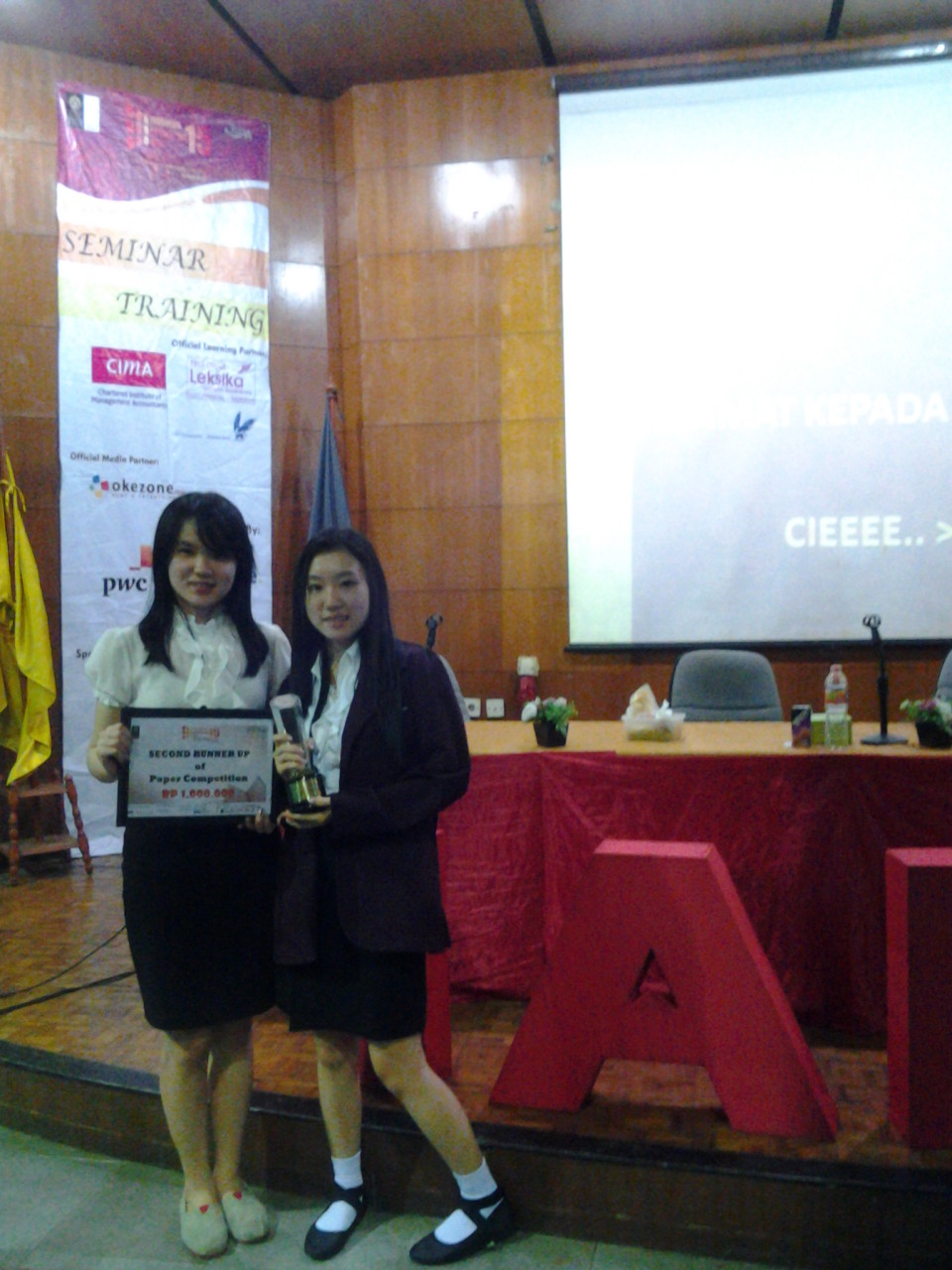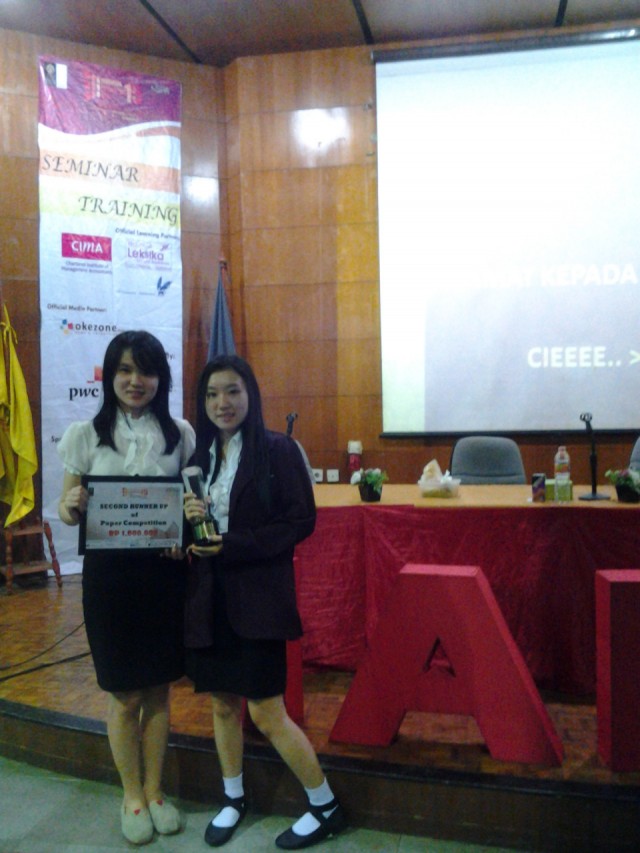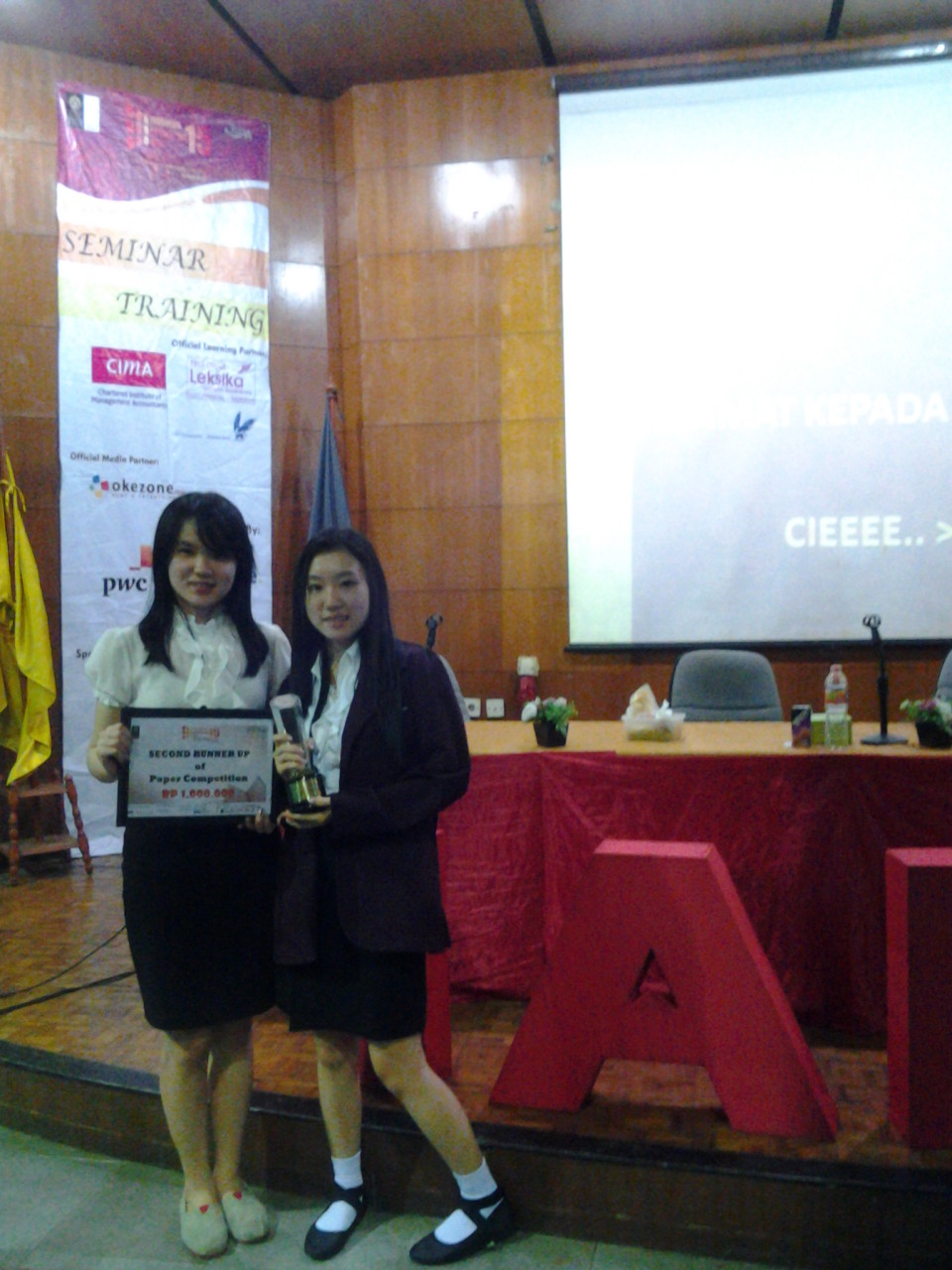 Selamat kepada Evin Calista (1501174442) dan Sinta Aprilliana (1501170015), mahasiswi  Jurusan Akuntansi  dan Keuangan semester 6 Binus University. Evin dan Shinta, mendapat posisi "Second Runner Up" untuk paper competition yang diadakan oleh Universitas Indonesia dalam acara IAF 15.
Indonesia Accounting Fair (IAF) adalah salah satu program kerja (proker) andalan Studi Profesionalisme Akuntan Fakultas Ekonomi Universitas Indonesia yang rutin diadakan setiap tahun. Proker ini mencakup pembahasan topik-topik akuntansi yang actual dan aplikatif di kalangan masyarakat. Pada IAF 15 ini, Universitas Indonesia mengambil tema acara "Adoption of IFRS 13 and IFRS 9: Implications and Implementation in Indonesia".
Ada 2 tahapan yang harus ditempuh, yakni preliminary round dan Main Round (Paper Presentation). Di tahap preliminary round ini, para peserta di seluruh Indonesia mengumpulkan paper kepada panitia (batas akhir: 17 Januari 2014), untuk diserahkan kepada panitia dan dewan juri. Penilaian penulisan paper oleh dewan juri dilakukan dari 20 Januari – 3 Februari 2014. Dari hasil penilaian tersebut diumumkan pada 9 Februari, nama Evin dan Shinta menjadi salah satu dari 5 finalis besar yang berhasil lolos ke tahap Main Round.
Berbagai persiapan dilakukan kedua mahasiswi tersebut untuk menghadapi Main Round (Paper Competition) pada tanggal 21 Februari 2014. Pada hari yang dinantikan tersebut, mereka presentasi di depan dewan juri dan menjawab pertanyaan yang diberikan. Perjuangan mereka membuahkan hasil yang sangat baik, paper hasil karya Evin Calista dan Shinta Apriliana dengan judul "ANALISIS DAMPAK DARI PERUBAHAN PENGUKURAN TERHADAP FINANCIAL INSTRUMENT PADA DUNIA PERBANKAN STUDI PADA PT BANK TABUNGAN PENSIUNAN NASIONAL, Tbk." berhasil membawa mereka ke posisi Second Runner Up of Paper Competition IAF 15. Selamat dan sukses selalu untuk kalian. #UptheAcc.