STUDIUM GENERALE ACCOUNTING WITH ICAEW
STUDIUM GENERALE ACCOUNTING WITH ICAEW
JANUARY 8, 2014
Tata kelola perusahaan khususnya dalam bidang akuntansi dan juga keuangan merupakan suatu hal yang cukup penting bagi setiap perusahaan, baik itu perusahaan besar atau perusahaan kecil sekalipun. Bukan hanya di negara-negara besar di luar negeri saja tetapi juga di Indonesia.
Adanya beberapa prinsip dalam tata kelola perusahaan akhirnya membuat program Akuntansi dan Keuangan BINUS UNIVERSITY yang bekerja sama dengan ICAEW mengajak para mahasiswa-mahasiswi mereka, khusunya mahasiswa-mahasiswi semester 7 untuk hadir pada acara Studium Generale with ICAEW: What Are The Overarching Principles of Corporate Governance yang diadakan pada Selasa (07/01) di Auditorium lt.4 – Kampus Anggrek. Acara ini mengundang Jo Iwasaki FCA selaku Head of Corporate Governance ICAEW.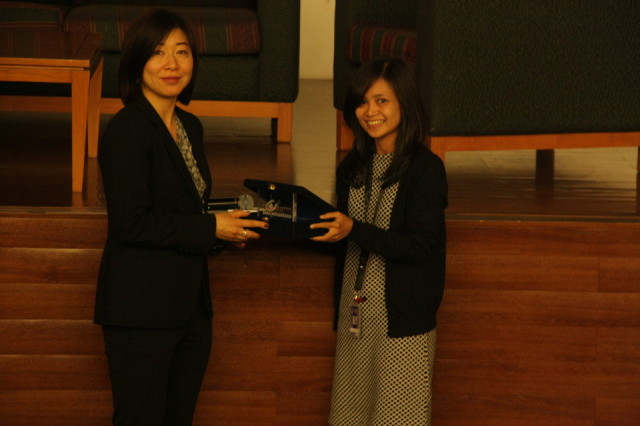 "Prinsip-prinsip menyeluruh yang diusulkan untuk tata kelola perusahaan diantaranya adalah kepemimpinan, kemampuan, akuntabilitas, keberlanjutan dan integritas yang harus berlaku untuk setiap perusahaan. Mereka juga harus mengingatkan kepentingan mereka apa, agar tata kelola perusahaan dapat terlihat. Tata kelola perusahaan akan terlihat jika sebuah perusahaan mampu mencapai tujuan bisnis dan tanggung jawab mendasar lainnya. Prinsip-prinsip menyeluruh juga harus membantu perusahaan dan regulator untuk merespon tantangan-tantangan baru dan menjaga kepercayaan pemegang kepentingan dalam bisnis" ujar Jo Iwasaki.