Juara 3 kompetisi 10th Ubaya Accounting Competition 2011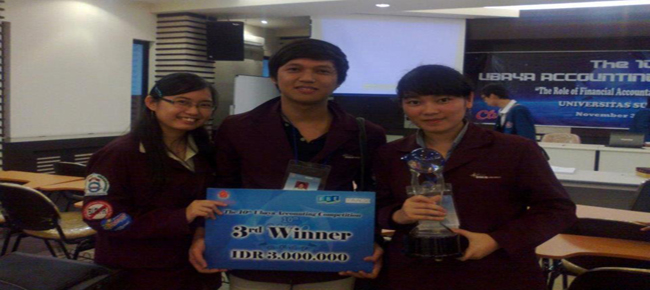 Tidak bosannya, mahasiswa akuntansi Binus mengikuti lomba. Pada kesempatan ini, mahasiswa akuntansi Binus berhasil meraih juara 3 yang diadakan oleh Universitas Surabaya yang diberi nama "The 10th Ubaya Accounting Competition 2011 (UAC 2011)", dengan tema "The Role of Financial Accountant in the Future".
Lomba yang diikuti oleh 19 tim dari berbagai daerah termasuk Binus University yang diwakili oleh Elfrida, Renaldy Bawole dan Stheresia. Lomba ini diadakan di kampus Universitas Surabaya Tenggilis selama 3 hari (3-5 November 2011). Selama 3 hari tersebut para peserta diharuskan melewati berbagai babak yang cukup seru dan menegangkan. Di babak terakhir yang diberi nama "Final Destination", 6 peserta yang memperoleh nilai tertinggi pada babak penyisihan akan mempresentasikan paper yang telah dibuat sebelum hari perlombaan dimulai.  Setelah melewati setiap babak, terpilihlah Universitas Surabaya sebagai juara 1 dan Universitas Parahyangan sebagai juara 2. "Kami cukup bangga dan senang dapat mewakili Binus University dan meraih juara ke 3, selain ilmu baru, kami juga mendapatkan pengalaman, teman-teman dari univ lain, sekaligus berwisata ke kota yang terkenal dengan patung ikan hiu dan buaya itu." Ujar Stheresia ketua tim dengan wajah tersenyum.