Lead Like The Great Conductors
Merupakan suatu berkah yang luar biasa bagi Accounting & Finance Laboratory karena berkesempatan mengundang Vice Rector Student Affairs & Community Development, Bapak Drs. Andreas Chang, MBA. untuk memberikan motivasi dalam acara rapat kerja asisten pada Sabtu (10/10/2015) kemarin.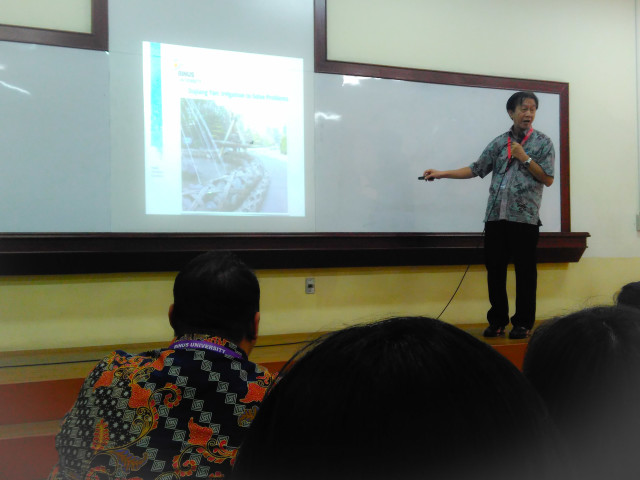 Di dunia ini terdapat berbagai jenis orang, ada yang super kaya (seperti Bill Gates, pendiri Microsoft), ada juga orang yang super pintar (seperti Albert Einstein), ada juga orang yang sangat sukses di usia yang masih muda (seperti William Tanuwijaya, pendiri Tokopedia dan Andrew Darwis, pendiri Kaskus), namun tidak dapat dipungkiri bahwa di luar sana juga masih banyak orang yang berkekurangan dan orang yang melakukan tindakan kejahatan.
Suatu hal yang mungkin tidak akan berbeda di antara jenis-jenis orang yang berbeda tersebut adalah semua orang menghadapi masalah. Namun di dalam masalah-masalah tersebut, cara setiap orang menyikapi masalah berbeda, mungkin ada yang memilih untuk melarikan diri dari masalah, ada yang melemparkan masalah ke orang lain, dan ada juga yang memilih untuk menghadapi dengan berani dan mengatasi masalah tersebut.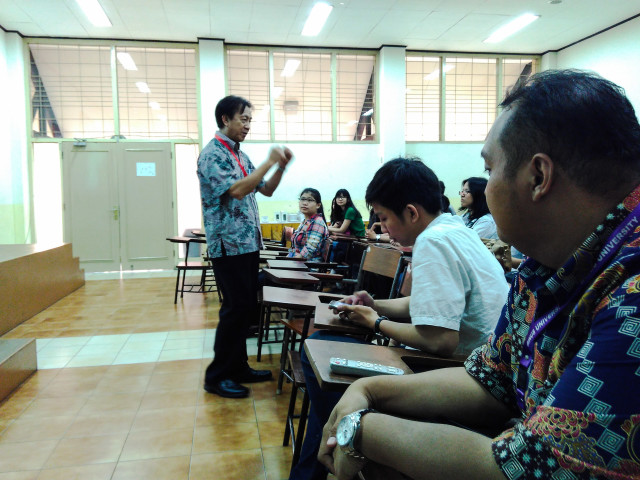 Otak manusia mungkin bisa dikatakan sebagai organ yang sangat kompleks, namun otak merupakan organ yang mengendalikan sebagian besar fungsi tubuh. Mengapa kepintaran setiap manusia berbeda? Setiap manusia menghabiskan waktunya untuk melatih otak di berbagai bidang yang mereka minati, sehingga bagian otak yang dilatih juga menghasilkan output yang berbeda. Kita harus selalu mengasah otak kita, karena di dalam otak terdapat neuron (sel otak) yang berfungsi sebagai penghubung informasi. Semakin berkembangnya neuron, semakin banyak informasi yang terhubung, maka kita akan semakin pintar. Jadi, teman-teman jangan malas untuk selalu mengasah otak ya supaya kepintarannya bertambah.
Perkembangan otak juga mempengaruhi bagaimana seseorang menghadapi masalah. Ada sebuah kisah di mana pada tahun 256 Sebelum Masehi, sebuah kota di provinsi Sichuan dilanda banjir setiap tahun. Ada seorang gubernur yang bijaksana bernama Li Bing, Gubernur Li menemukan bahwa air yang mengalir cepat dari gunung menyebabkan aliran sungai tidak lancar dan terjadi banjir. Gubernur Li mengatasi masalah ini dengan cara membuat bendungan di mana air-air tersebut kemudian dijadikan sebagai air untuk irigasi. Sejak saat itu, tidak terjadi lagi banjir dan bendungan tersebut menjadikan Sichuan sebagai tempat yang paling produktif untuk bercocok tanam di China. Bendungan tersebut kemudian dinamakan sebagai Dujiangyan. Setiap masalah datang pasti berpaketan dengan solusi, hanya saja apabila kita tidak mencoba untuk menghadapi masalah, kita selamanya tidak akan menemukan solusi atas masalah tersebut.
Begitu juga untuk asisten, dalam melaksanakan pekerjaan sehari-hari pasti mengalami masalah. Dalam proses membantu dosen, asisten seringkali harus bertindak seperti leader bagi mahasiswa. Ketika kita dipercayai untuk memimpin kelas, maka lakukanlah dengan sepenuh hati. Lead like the great conductors. Konduktor yang baik akan memimpin sebuah orkestra dengan "hati", bukan sekedar melaksanakan tanggung jawab. Ketika kita melakukan semua hal karena kita melakukan dengan sepenuh hati, kita ingin memberikan kontribusi, bukan karena sekedar menyelesaikan tanggung jawab, percayalah output yang dihasilkan akan lebih bagus.
(link untuk menonton pembicaraan inspiratif Itay Talgam mengenai lead like the great conductors: https://www.youtube.com/watch?v=Wn1fV47NaWY)
Jadi para asisten dan binusian, hadapilah dengan tangguh apabila masalah datang. Lead like the great conductors. Salam sukses. (hwaiting!)